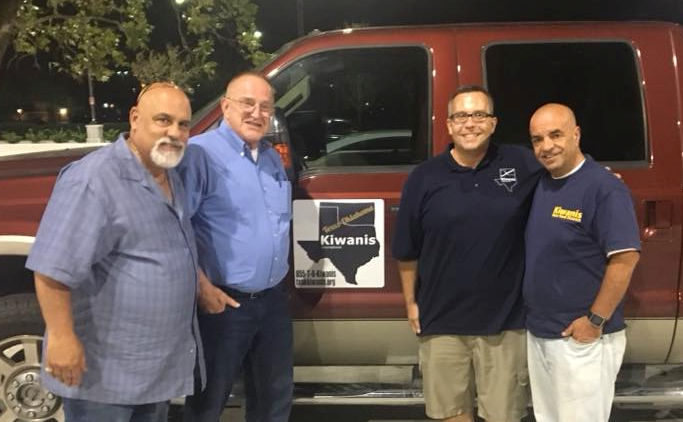 Pictured from left are Past Gov. Stephen Sirgiovanni, Distinguished Past Gov. Mike Malark, an unidentified local resident, and Distinguished Past Gov. Joe Aiello.
Supplies Arrive in Texas
The 18-wheel truck filled with supplies from the New York District has arrived in Pasadena, Texas, where they will be distributed to flooding victims by the Pasadena First Church of the Nazarene and its Thrive Resource Center.
The truck left New York after stopping to pick up supplies which had been brought from many areas of the district to assist those in the Houston area flooded by Hurricane Harvey.
The district's Disaster Relief effort is not over. Supplies collected now will be taken to Florida. Lieutenant governors are being asked to bring donations to the Tri-K Weekend, which will take place Nov. 17-19 in Albany where they will be collected in advance of another truck headed for Florida.
No clothing donations are needed. Most important are school supplies, can openers, baby diapers, small boxes of cereal and Lowes gift cards. A list also can be downloaded.
To make a donation, send checks made out to New York District Foundation Disaster Relief Fund to Mike Malark, Disaster Relief Chair, 14 Crowridge Rd., Voorheesville, NY 12186. For information, call (518) 765-4392.
Kamp Kiwanis to Celebrate 50th Anniversary
The New York District Kiwanis Foundation and Kamp Kiwanis will be celebrating their 50th Anniversary with a Gala on Sunday, March 4, 2018. The event will recognize the hard work and dedication done by so many to make and keep the Kamp successful.
The celebration will be at the Crest Hollow Country Club in Woodbury.
Ads for the program book are now being solicited. For more information and an ad form, see the 50th Anniversary page on the Kamp web site.

New Members Being Inducted

So far during the 2017-18 Kiwanis year, 73 new members have been inducted by Kiwanis clubs in the New York District.

You can see who they are and what clubs and divisions they have joined.

Empire Club Information

A new page has been added to the web site with information on the Empire Club, one of the District Foundation Support Programs.

Milestone Club Anniversaries This Month

Club
Organization Date
Years
Malone
November 18, 1927
90
Norwood
November 30, 1937
80
County Seat, Mineola
November 28, 1977
40
Woodside
November 28, 1977
40
Niagara-Wheatfield
November 15, 2007
10

View Complete List