Pictured with the award, from left, are Kiwanis International President Jane Erickson, Kiwanis International Trustee Peter Mancuso, Gov. Stephen Sirgiovanni, Past Gov. Forbes Irvine, and International Trustee Koshiro Kitazato.
Massapequa Wins Silver
Kiwanis International has awarded the Kiwanis Club of Massapequa a Silver award in its Signature Project Recognition Program.
The award was announced July 14 at the Kiwanis International Convention in Paris.
Massapequa was honored for its drug abuse awareness effort. All Kiwanis districts submitted entries for the recognition; Massapequa, as the New York District's nominee, was one of 11 which were selected as finalists.
Signature projects show the impact a Kiwanis club can have on a community. From playgrounds and parks to festivals and fundraisers, signature projects are the hallmarks of what Kiwanis clubs are known for in their communities.
A full list of district submissions is available.



Register Now for District Convention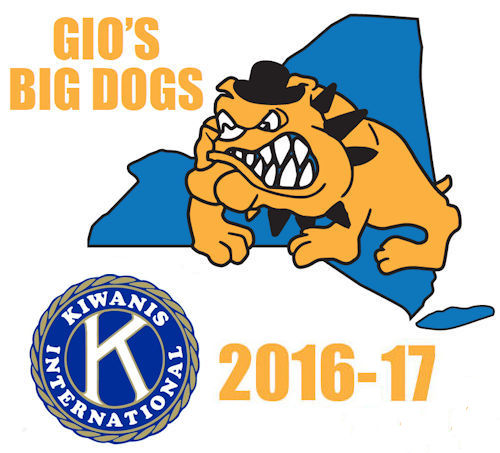 Registration for the District Convention, Aug. 24-27, in Lake Placid is now open.
The convention and hotel registration are separate, and each can be done online.
Be aware of the deadlines. Registration fees are non-refundable after July 16. You must register for the hotel before July 24 to be part of the district block of rooms. Any registrations after that date will be on a space-available basis at the prevailing rates rather than the ones negotiated by the district.
For more information and to register:
Foundation Awards Scholarships
The New York District Kiwanis Foundation is proud to announce the four recipients of the Foundationís Scholarships. They are:
Alexis Warren from Lindenhurst, attending Earlmam College.
Elmira Silyuk from Syracuse, attending Pomeroy College of Nursing at Crouse Hospital.
Melissa Denizard from Spring Valley, attending Babson College.
Melissa Clayton from Middletown, attending Stony Brook University.
Save the Date for Kamp Gala

A Gala to celebrate the 50th anniversary of Kamp Kiwanis has been scheduled for Sunday, March 4, 2018, at the Crest Hollow Country Club in Woodbury.

More information will be available closer to the event.

New Members Being Inducted

So far during the 2016-17 Kiwanis year, 433 new members have been inducted by Kiwanis clubs in the New York District.

You can see who they are and what clubs and divisions they have joined.

Milestone Club Anniversaries This Month

Club
Organization Date
Years
Gloversville-Johnstown
July 28, 1922
95
Sunnyside
July 9, 1947
70
Elma
July 2, 1957
60
Long Beach
July 23, 1957
60
North Greenbush
July 18, 2007
10

View Complete List