Centennial Tour Stop is April 23-25
The celebration of the Kiwanis International Centennial began in January in Detroit, where the first Kiwanis club was established in January of 1915.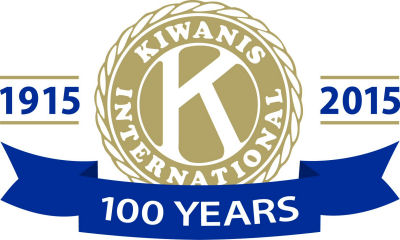 It will continue through the spring leading up to the International Convention, June 25-28 in Indianapolis. That will be a historic convention in that it will be the first time that the Circle K, Key Club and Kiwanis conventions have all taken place at the same place and at the same time.
The Centennial Tour includes a stop in New York City and on Long Island the weekend of April 23-26. Kiwanis International President Dr. John Button and First Lady Debbie Button will be participating in the events.
Here's the schedule:
Thursday, April 23: International President Dr. John Button, Gov. Eric G. Paul, Past International President Jerry Christiano and Linda Christiano, who, with her husband, is a co-chair of Kiwanis International's Region 1 for the Eliminate Project, are the featured guests at a dinner presented by the Kiwanis Club of All Island and its foundation at Annadale Terrace, 801 Annadale Road, Staten Island. Download the flyer for reservation information.
Friday, April 24: the Kiwanis Club of Chinatown's Benefit Night will take place at the Golden Unicorn Restaurant, 10 East Broadway, New York City. Tickets for the event, being chaired by Grace Law, are $75 per person or $750 per table. You can download the flyer for the event. Reservations are due by April 10, and payment by April 15.
Saturday, April 25: A ground breaking for a Kiwanis Centennial Playground in Island Park will take place. The school playground will replace one destroyed in 2012 by Hurricane Sandy. The project is being supported in part by the Kiwanis International Foundation. Distinguished Past Gov. David Rothman is chairing that event.
After the ground breaking, there will be a celebration luncheon at Domenico's Restaurant, 3270A Hempstead Turnpike in Levittown. Tickets are $42 for adults and $20 for children under 12. Only 200 tickets will be available for the event. An event flyer is available. Distinguished Past Gov. Joseph Corace is the chair. Reservations are requested by April 17.
More information on the Centennial Tour is available on the Kiwanis International web site.
Register Now For International Convention
This year's International Convention in Indianapolis will be unlike any other. The event will mark the 100th anniversary of Kiwanis, and will feature conventions by Kiwanis, Circle K, Key Club and Aktion Club in the same place at the same time.
More information on the Centennial Celebration is available, including information on how to get tickets for the district event at the Hard Rock Cafe.
Mother's Day Zellers Available
Back by Popular Demand: The Mother's Day Zeller Matching Funds Campaign will be held again this year in the New York District until May 31.
For a donation of only $625, a Zeller can be ordered for a special woman in your life - mother, grandmother, sister, daughter, etc. The remaining $625 will be applied from the Stanley Trust and EliMiNaTe District funds. Your club will receive credit for the entire $1250!
This is the last year that these Mother's Day Zellers will be available, and we have about 25 available. Don't delay!. Download the guidelines and order form here.
Bring a Guest Contest
Clubs in the district are urged to participate once again in a Bring a Guest Contest which starts April 15 and runs through July 15.
How it works: Bring a potential member to a meeting and take a photo with that person to earn one entry into the contest; take a photo of you and a new member being inducted into your club and earn five entries to win a grand prize.
Send your photos along with information on the division, club, member and guest names to District Formula Membership Chair Julie Watterson by e-mail to JulesW77@aol.com or by text to (631) 987-2442. Entries, which must include a picture, will be posted on the district Facebook page.

All Island Becomes Platinum Club

The All Island Club of Staten Island has surpassed its Model Club pledge for the Eliminate Project by pledging to become Platinum Club. Platinum Clubs donate $1,500 per member, thus doubling the Model Club commitment. Congratulations to the members of this generous club, which is only 15 months old. All Island became a Model Club even before it was chartered last year.

April ESK Available

The April edition of the Empire State Kiwanian is in the mail and available here on the web site.

The issue includes information on the upcoming Kiwanis International Convention, on the recently completed Circle K and Key Club district events, and on club activities from around the district.

Kamp Kiwanis 2015 Information Posted

All the information you might need for the 2015 season at Kamp Kiwanis is now available on the Kamp web site.

Information for prospective kampers, staff, and on club activity at the kamp is all available.

KPTC Fellows Now Listed

The list of people who have been awarded a Kiwanis Pediatric Trauma Center Fellowship have been added to the web site.

You can access them on the same page as the other foundation honorees.

Milestone Club Anniversaries This Month

Club
Organization Date
Years
Jamestown
April 3, 1920
95
Dewitt
April 15, 1940
75
Delmar
April 22, 1940
75
Lindenhurst
April 5, 1950
65
Gouverneur
April 22, 1980
35
Franklin Square
April 4, 2000
15

View Complete List