Clubs, Divisions Honored at Mid-Year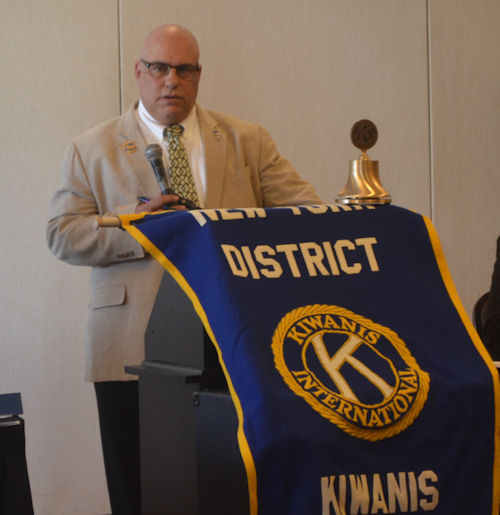 Gov. Stephen Sirgiovanni during Friday's district board meeting.
The 2017 Mid-Year Conference took place Feb. 10-12 at the Villa Roma Conference Center in Callicoon.
It was a weekend of learning and celebration, as honors were announced for the work done during the 2015-16 Kiwanis Year, and those at the conference attended many forums and workshops to give them information to take to their home clubs.
Featured at the event was Kiwanis International President-Elect Jim Rochford. In addition to speaking at the district board meeting on Friday and the banquet Saturday evening, Rochford conducted three forums to overflow crowds. Rochford, who has played a role in opening 150 Kiwanis clubs over the years, provided information on opening new clubs, recruiting and retaining members.
Lists of honored lieutenant governors, distinguished clubs, and many pictures from the weekend's events are available, as is a list of club achievement award winners.
Calling Hours Scheduled for Jack Purdy

Jack Purdy, currently served as lieutenant governor of the Mohawk Division, has died.
Purdy, a member of the Scotia-Glenville Kiwanis club, died March 21.
Friends and family are invited to attend a Celebration of Life service at 4 p.m. on Sunday, March 26, with Rev. Richard H. Moran Jr. officiating, at the Glenville Funeral Home, 9 Glenridge Road, Glenville, NY 12302. Calling hours will be held prior from 2 to 4 p.m. A private burial at a later date will be held at the Gerald B.H. Solomon Saratoga National Cemetery with full military honors.
Jack was a life-long resident of the Capital District. He served honorably in the US Army from 1965 to 1968. He was a Vietnam combat veteran, serving with the 82nd and 101st Airborne.
He was appointed to the Glenville Police Department in 1971 and rose through the ranks ultimately retiring as Chief of Police.
Jack is survived by the love of his life, his wife of 47 years Lena Purdy, his sons Jack (Erin) and Michael Purdy and five grandchildren Alaina, Matthew, Sara, Francesca and Alexandra. His mother Mary Purdy Heise and brothers Floyd (Tina), Robert, William (Sheila), David (Laurel) and sister Darlene (Dennis) Smith. Brother and sister in laws Tom and Sylvia Nozny, Amelia Nardone, Tony Nardone, and Ann Marie Goss, as well as many nieces and nephews.
The family suggest in lieu of flowers, contributions in memorial be sent to Kamp Kiwanis payable to NY District Kiwanis Foundation re: Kamp Kiwanis Memorial Fund, 126 Lefferts Road, Woodmere NY 11598.
Paris Registration Cost Increases April 15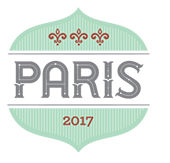 Registration is now open for the 2017 International Convention, July 13-16, in Paris, France, at the Paris Convention Center.
Registration fees are $330 until April 14, and $385 until May 15. After May 15, registration will be on site only and will cost $440.
While the International Convention is going on, the Kiwanis International European Federation Convention will be taking place as well.
The opening session will be Thursday evening and the business session will be Friday afternoon. Friday, July 14, is Bastille Day, a major holiday in France. Friday morning's schedule is open so that Kiwanians can attend the parade and other Bastille Day activities.
The convention closing is Saturday afternoon.
For more information and links to registration forms, information on the candidates for election and proposed bylaw amendments, see the International Convention page here on the site.
Unclaimed Funds
The New York State Comptroller's office currently has funds in the name of various Kiwanis organizations which it is waiting to have claimed.
There are 34 Kiwanis organizations listed. The money comes from banks, utility companies, phone companies and others.
You can check to see if your club has funds it can claim. Search for Kiwanis in the Search for Organization area.

New Members Being Inducted

So far during the 2016-17 Kiwanis year, 370 new members have been inducted by Kiwanis clubs in the New York District.

You can see who they are and what clubs and divisions they have joined.

Milestone Club Anniversaries This Month

Club
Organization Date
Years
Richmond Hill Woodhaven
March 14, 1927
90
Ticonderoga
March 31, 1927
90
Seneca Falls-Waterloo
March 8, 1937
80
Silver Creek
March 25, 1937
80

View Complete List