New Kiwanis Year
Under Way
"Team Eric" Assumes Leadership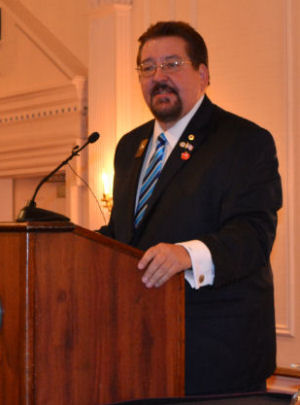 The 2014-15 Kiwanis Year is now under way, with Gov. Eric G. Paul and his administration taking the leadership role for the district.
Paul, a member of the West Seneca Club, is pictured at right thanking convention delegates for their support at the District Convention in August.
Much of the information you need on the new year is posted here on the site, including the new division lieutenant governors and chairs of the district committees. Other information will be added during the next few days and the club president and secretary information will be added during the next few weeks.
Membership Target Met
Dear Kiwanis Family:
I'm so over whelmed about the news that we surpassed our goal of 1,000 new members to 1056 new members.
This is a fantastic achievement. We did this with only one day left. I said this from day one that we are a family and the New York District can achieve any goal that is presented. This is because you belive. This demonstrates that you have Kiwanis in your heart.
It's all about the children. I want to thank everyone who worked so hard to make this happen. I know, that many thought this goal could not be reached. I knew it could be done! I want to thank everyone, I am so proud of the lieutenant governors, presidents, secretaries, but most of all the members. To the Growth Chair, Lt. Gov. JP DiTroia for his hard work making this happen.
You believed in your Governor and trusted me to lead the Kiwanis Family. I thank you for a hell of a year. I will always be proud of our great accomplishments. To you, I tip my hat. As of Oct. 1, I will be leading the Formula Team. I encourage that we continue with the motivation and energy to bring this District to another level.
Congratulations to you all, we made it.
- 2013-14 Past Gov. Joe Aiello

2014-15 Dues Billing

Action at the Kiwanis International Convention and the New York District Convention have caused some changes in the amounts clubs will be billed Oct. 1 for the 2014-15 year.

Dues and fees paid by the Kiwanis Clubs are as follows:

International Dues: $42
Subscription to Kiwanis Magazine: $8
Insurance: $16 (Includes $4 Directors and Officers Insurance and $12 for liability insurance)
District Dues: $24

Other factors to remember:

New member who was in Circle K or Key Club: 2 years no dues for International and for District
Spousal Credit for Kiwanians in the same household (mailed to the same address)
New member who is or was in the Armed Services: 2 years no dues for District
Honorary members: $8 for magazine subscription only

Foundation Honorees Now Listed

The recipients of the International Foundation Awards, including the Hixson and Zeller awards, and the New York District Foundation's Kaiser Award are now available for viewing here on the web site.

The award recipients can be searched by name or by club.

The Brittany Awards, presented by the Pediatric Lyme Disease Foundation, which have previously been available on the site are listed as well.

See the listing at: Foundation Awards.

Lyme Disease Presentation Available

A new presentation on Lyme Disease is available here on the web site.

Milestone Club Anniversaries This Month

Club
Organization Date
Years
Salamanca
October 19, 1939
75
Baldwin
October 23, 1944
70
Levittown
October 27, 1949
65

View Complete List