Mid-Year Conference Registration Open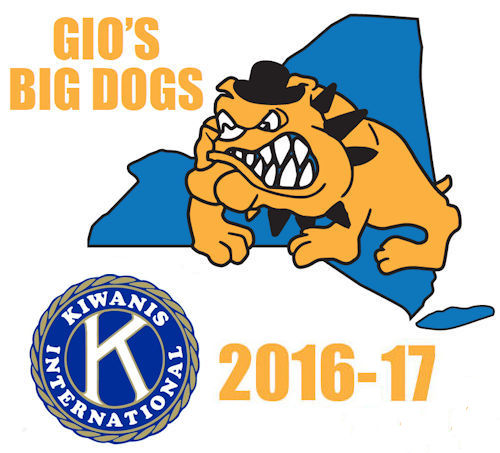 You can now register for the 2017 Mid-Year Conference, which will take place Feb. 10-12 at the Villa Roma Conference Center in Callicoon.
A variety of forums are planned, and awards will be presented for accomplishments during the 2015-16 Kiwanis year.
Those attending also will be able to take advantage of the many activities which are available at the Villa Roma resort, including a variety of things for children to do. There will be a break in the schedule Saturday afternoon to give time for other activities.
More information is available including hotel and conference registration forms, the tentative schedule for the event, and information on the Pajama Party that will take place on Friday evening.
Governor's Project Is Multi-Faceted
The Governor's Project for 2016-17 has several parts:
Cardiac Screenings: Promote early detection/screening of students' hearts.
Juvenile (Type 1) Diabetes
Kiwanis Foundations: Support the district's foundations: District Foundation, Kiwanis Pediatric Trauma Centers and the Kiwanis Pediatric Lyme Disease Foundation.
Autism Awareness
Anti-Bullying
Drug Overdoses
More information and submission forms are on the Governor's Project page.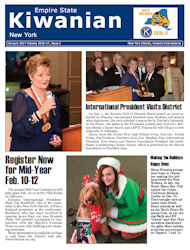 New Empire State Kiwanian Available
The January 2017 edition of the Empire State Kiwanian is in the mail and available here on the web site.
Included are columns from district leaders and chairs, information on the upcoming International Convention, and many photos on club activities around the district.
International Foundation Renamed
To better reflect its mission of serving children, the Kiwanis International Foundation changed its name to the Kiwanis Children's Fund in October.
The new name emphasizes the people we serve -- children; and the way we serve them -- by collecting and distributing funds to meet the most important needs of children. Learn more in a message from Kiwanis International President Jane Erickson and Kiwanis Children's Fund President Chia Sing Hwang.

Unclaimed Funds

The New York State Comptroller's office currently has funds in the name of various Kiwanis organizations which it is waiting to have claimed.

There are 33 Kiwanis organizations listed. The money comes from banks, utility companies, phone companies and others.

You can check to see if your club has funds it can claim. Search for Kiwanis in the Search for Organization area.

Anti-Bullying Essay Contest

The District's Anti-Bullying Chair, Keith Cummings, has announced an anti-bullying essay contest for students in the state 16 and under.

More information is available.

Milestone Club Anniversaries This Month

Club
Organization Date
Years
Tri-County of Western New York
Jan. 28, 1947
70
Astoria-Long Island City
Jan. 7, 1987
30
Islips, Bay Shore
Jan. 13, 1987
30

View Complete List