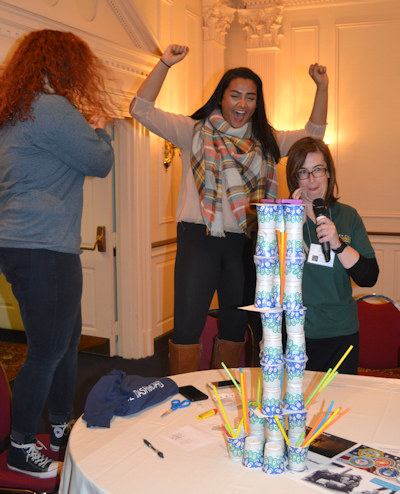 Tri-K Brings
Kiwanis Family
Together
The annual Tri-K Conference took place Nov. 17-19 at the Desmond Hotel in Albany. The event brings together the district boards for Kiwanis, Circle K and Key Club. The three boards have individual meetings and participate in other educational and group activities.
One activity was a challenge to see which team (made up of members from all three boards) could build the tallest structure using paper cups, tape and straws, which would hold up organizer Kim Scharoff's cell phone.
At right, the winning team celebrates as their tower successfully holds up the phone. Scharoff, right, declared them the winners.
More pictures from the weekend are available.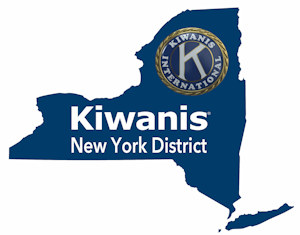 District Adopts New Logo
At the New York District Board Meeting at the Tri-K, a new logo for the district was adopted. It can be seen at right.
The old logo, which featured a circle with a drawing of the state map inside it, did not comply with current graphic standards set by Kiwanis International.
If you'd like to use the logo, right-click on it and choose to download it to your computer.
Everyday Hero, Distinguished Kiwanian Awards
For 2017-18, the Everyday Hero Award will be available which clubs can use to honor unsung heroes in their communities. More information is available.
More information also is available on the 2017-18 Distinguished Kiwanian award.
Texas Hurricane Victims Get Help
The 18-wheel truck filled with supplies from the New York District arrived in Pasadena, Texas, early in November where they were distributed to flooding victims by the Pasadena First Church of the Nazarene and its Thrive Resource Center.
The truck left New York after stopping to pick up supplies which had been brought from many areas of the district to assist those in the Houston area flooded by Hurricane Harvey.
Collection of supplies for disaster relief now will be stored pending another disaster. No further trips for hurricane relief are planned.
Checks also can been sent to the district's Disaster Relief Fund. Checks made out to New York District Foundation Disaster Relief Fund to Mike Malark, Disaster Relief Chair, 14 Crowridge Rd., Voorheesville, NY 12186. For information, call (518) 765-4392.
Kamp Kiwanis to Celebrate 50th Anniversary
The New York District Kiwanis Foundation and Kamp Kiwanis will be celebrating their 50th Anniversary with a Gala on Sunday, March 4, 2018. The event will recognize the hard work and dedication done by so many to make and keep the Kamp successful.
The celebration will be at the Crest Hollow Country Club in Woodbury.
Ads for the program book are now being solicited. For more information and an ad form, see the 50th Anniversary page on the Kamp web site.

Legal, Tax Issues Addressed

A new page on the web site provides expanded information for clubs that are considering creating a club foundation or have other questions about state and federal filing requirements for Kiwanis clubs.

New Members Being Inducted

So far during the 2017-18 Kiwanis year, 105 new members have been inducted by Kiwanis clubs in the New York District.

You can see who they are and what clubs and divisions they have joined.

Milestone Club Anniversaries This Month

Club
Organization Date
Years
Maspeth
December 8, 1947
70
Solvay-Geddes-Camillus
December 17, 1947
70
Broome County
December 1, 1982
35

View Complete List