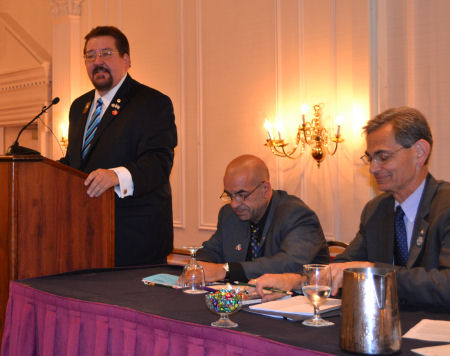 Paul, Irvine Elected
Eric G. Paul was elected Governor and Forbes Irvine was elected Governor-Elect at the New York District Convention Saturday in Albany.
Paul, a member of the West Seneca Club, and Irvine, a member of the North Central, Staten Island, club, ran unopposed. They will assume their new offices on Oct. 1.
Also during the House of Delegates on Saturday, two bylaw amendments were approved following debate. The approved amendments will change how the Empire State Kiwanian is funded and published, and provide for a new member fee for the district for the first time.
Above, Paul addresses the delegates following his election. Seated, from left, are Gov. Joe Aiello and Parliamentarian Distinguished Past Gov. Peter Mancuso. Below, Forbes Irvine (in gray suit) acknowledges the applause following his election. From left the individuals are Jim Mancuso, Helene Irvine, Forbes Irvine, Past International First Lady Dr. Rosemary DeJulio, Past Governor Doreen Pellittieri and Past Lt. Gov. Nydia Corace.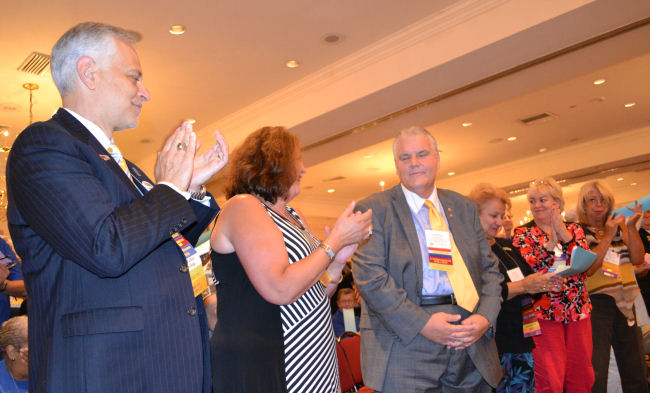 Three New Clubs Organized in July
On July 23 an organizational meeting for the new Kiwanis Club of East River in the Queens West Division took place.
Club organizers report that 31 people attended the event, with 9 paying their dues and 19 others signing applications at the event.
The plan is to get the club chartered before the District Convention. Further information on the club was not available.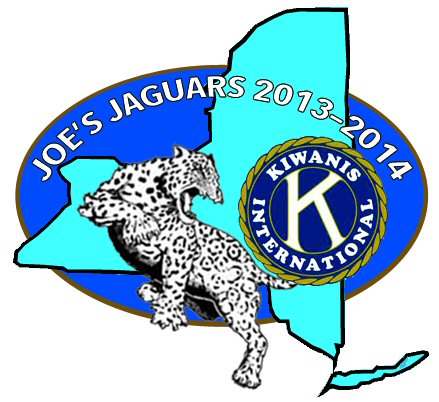 Earlier in July, the Kiwanis Club of Seaford in the Long Island South Central Division was formed with 16 members. Lt. Gov. Ann Torcivia was the club builder, with assistance from by Past Distinguished Lt. Gov. Jim Mancuso. Sponsoring clubs are Wantagh and Nassau County Medical Center.
The Charter President is Steven Katz. They will meet the 2nd and 4th Thursdays at 6 p.m. at a location to be announced. The Charter Night is planned for mid-September.
On July 10, the organizational meeting took place for a new Geneva club in the Finger Lakes Division. Distinguished Past Gov. Joe Eppolito, chair of the district's New Club Building effort, congratulated Finger Lakes Lt. Gov. David Jacobus and his wife, Bonnie, and the district's New Club Building team for the successful start of the new club.
On the same evening a new Builders Club also was formed in Geneva.
The charter president is Don Cass. Other officers are Secretary Christopher VanKirk, President-elect Barbara Roesch, Vice President Judith Curtis and Treasurer Bob Krebbs.
The new club is meeting weekly, at 6 p.m. on the 1st and 3rd Thursdays at the Zion Lutheran Church, 18 Snell Road, and at noon on the 2nd and 4th Wednesdays at a location to be determined.

Foundation Honorees Now Listed

The recipients of the International Foundation Awards, including the Hixson and Zeller awards, and the New York District Foundation's Kaiser Award are now available for viewing here on the web site.

The award recipients can be searched by name or by club.

The Brittany Awards, presented by the Pediatric Lyme Disease Foundation, which have previously been available on the site are listed as well.

See the listing at: Foundation Awards.

Bring a Guest Contest

Clubs around the district were invited to participate in a Bring a Guest Contest in March and April organized by District Membership Chair J.P. DiTroia.

Prizes were offered for clubs which participated by having a Bring a Guest night to attract new members. Clubs also were asked to submit pictures from the event. A total of 21 clubs entered, 19 of which submitted pictures.

The pictures are available for viewing.

Milestone Club Anniversaries This Month

Club
Organization Date
Years
Spring Valley
August 17, 1949
65
Saugerties
August 28, 1979
35
Potsdam
August 22, 1989
25
Forest Hills
August 14, 2009
5

View Complete List