Rochester Celebrates Centennial
International President Highlights Event
On April 29, the Kiwanis Club of Rochester celebrated its 100th anniversary with an event attended by Kiwanis International President Sue Petrisin and Kiwanis dignitaries from around the district.
Shown at right is President Sue addressing the more than 100 people in attendance. Behind her is a banner noting that the Kiwanis Club of Rochester was the home club of George F. Hixson, the first president of Kiwanis International.
Petrisin, the first woman to lead any major community service organization including Kiwanis, is the current holder of that office. Hixson also was the first president of the Kiwanis Club of Rochester; the current holder of that office, Tracy Zoellick, is at the left.
More pictures and information is available.
The Master of Ceremonies for the event was Past Gov. Jack Tetamore, a member of the Rochester club since 1959 who holds the distinction of having George Hixson as his Kiwanis sponsor. He told the audience about his relationship with Hixson. His club surprised Tetamore with a Centennial Award which was paid for by donors. Pictured above, from left, are Past Lt. Gov. Joanne Underwood, a Rochester member; Past International President Jerry Christiano, Rochester President Tracy, International President Sue and Tetamore, with the Centennial Award in front of him.
Key Leader Registrations Needed
The Key Leader program will be offered May 13-15 at Camp Stella Maris in Livonia. Clubs are needed to support the program by sending students and/or by making donations for scholarships so students are able to attend.

Key Leader is for students aged 14-18. Students can be found through Key Club, Big Brothers/Sisters, Clergy, Boys & Girls Club, and home school resources to name a few. The cost is $250 per student, $175 for Student Facilitators (generally returning students).
Registration is done online at www.key-leader.org. To register, filter by location city, then select Livonia, then select Register.
Our goal is to get to 60 Student Participants so that no fund are paid by the district to cover the guarantee.
If you would like to donate to help a student attend, you can send a check to the District Office, and place "Key Leader" in the memo section. Questions can be made to Key Leader District Chair Dean Beltrano, (716) 754-9123 or by e-mail to dmb071169@roadrunner.com.
Toronto Convention Approaching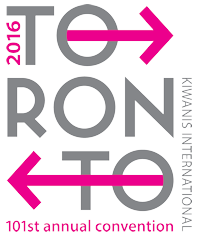 Official Call:
This is the Official Call to the 101st Kiwanis International Convention June 23-26, 2016 to be held in Toronto, Canada. Official registration forms including hotel information is available online at www.kiwanis.org. Please note that you will need a passport when traveling. If you are driving you can use an Enhanced New York State Drivers License in place of a passport. Delegate forms must be completed no later then April 30, 2016, and returned to Kiwanis International. Any questions please contact the District Office at 516-318-1585.
The convention will include a New York candidate for the International Board of Trustees, Distinguished Past Gov. Peter Mancuso.
For more information on the event, go to the International Convention page here on the site. Online registration ends May 13. Hotel registration also is available online.
New York District Information:
Clubs Marking Centennials

Six clubs in the district will be celebrating their 100th anniversary during 2016. The celebrations begin at the end of April.

Information on the Troy event Oct. 28-29 is now available.

More information on the events is available.

Milestone Club Anniversaries This Month

Club
Organization Date
Years
Rochester
May 1, 1916
100
Lockport
May 17, 1916
100
Newburgh
May 12, 1921
95
Henrietta
May 9, 1961
55
Farmington-Victor
May 1, 1986
30
Bedford Stuyvesant, Brooklyn
May 6, 1986
30
Westmoreland
May 23, 1991
25
Jamaica
May 11, 2006
10

View Complete List