2011 District Convention
The 2011 District Convention took place Aug. 10-14 at the Westchester Marriott in Tarrytown.

House of Delegates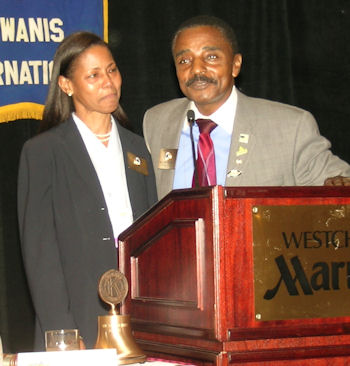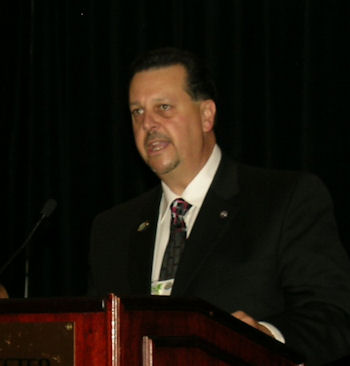 Risbrook, Norato Elected
William Risbrook was elected Governor and Albert Norato Jr. was elected Governor-Elect Saturday at the District Convention in Tarrytown.
Pictured above, left, are Risbrook and his fiancee, Dr. Lavonia Francis, following the vote. At right is Norato.
Risbrook will become Governor on Oct. 1, which is when Norato will become Governor-Elect. Both candidates ran without opposition.
Risbrook is a member of the Cambria Heights club and a past lieutenant governor of the Queens East Division. Norato is a member of the Sayville and Suffolk East Young Professionals clubs, and has served two years as lieutenant governor of the Suffolk East Division.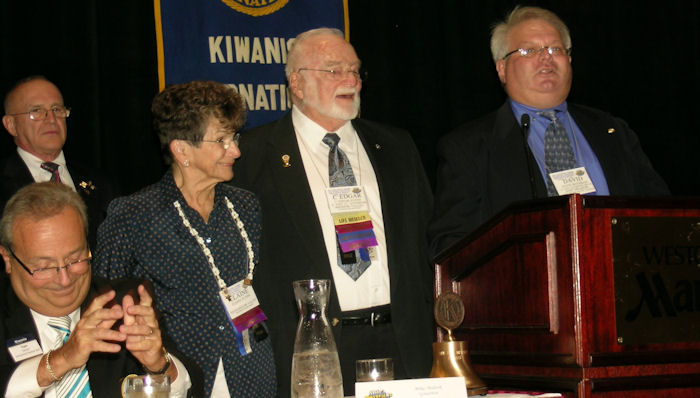 Flynn Receives Christiano Award
C. Edgar Flynn Jr., a member of the Minisink Valley club since 1963, was honored with the Gerald P. Christiano Distinguished Service Award for his service to the district.
Shown above during the presentation, from left, are (front) Kiwanis International President-Elect Thomas DeJulio, Elaine Flynn, Edgar Flynn and Past Gov. David Rothman; at the rear is Gov. Mike Malark.
The award is presented by the Past Governors Council to a Kiwanian who has not been a governor but has served the district for many years.
In addition to his club service, Flynn has served three years as lieutenant governor of the Hudson River West Division, twice being named distinguished, and has a long record of service to Kamp Kiwanis. He also has 43 years of perfect attendance. He has chaired District Mid-Year Conferences, is a Hixson Fellow, a Hixson Ambassador, a Diamond Hixson Fellow, a Tablet of Honor recipient, and Anton J. Kaiser Fellow and has received the Kiwanis International Distinguished Service Award.
Below, Flynn receiving his award.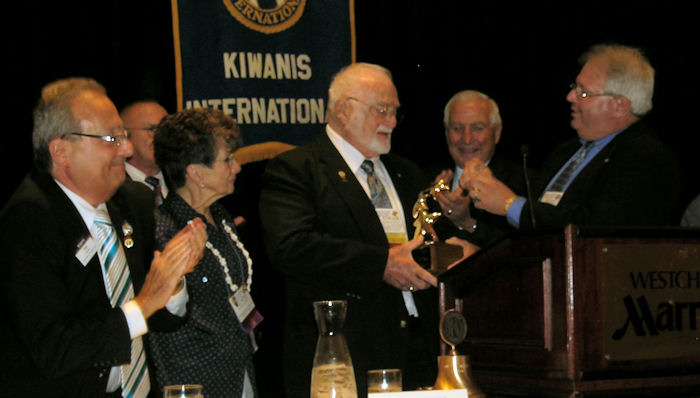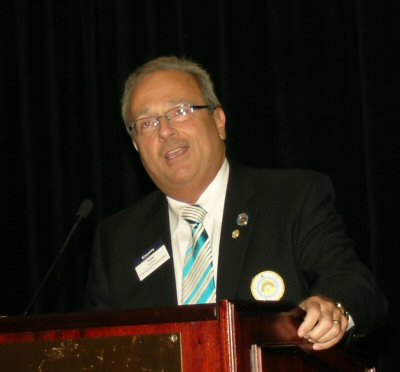 Tom DeJulio Thanks Kiwanians
During the House of Delegates, Kiwanis International President-Elect Designate Thomas DeJulio thanked the district for its support at the Kiwanis International Convention in Geneva, and urged Kiwanians to attend next year's convention in New Orleans.
DeJulio, currently Vice President of Kiwanis International, was elected President-Elect at the Geneva convention, a post he will start in October. Next June in New Orleans he will be elected president of Kiwanis International.

General Assembly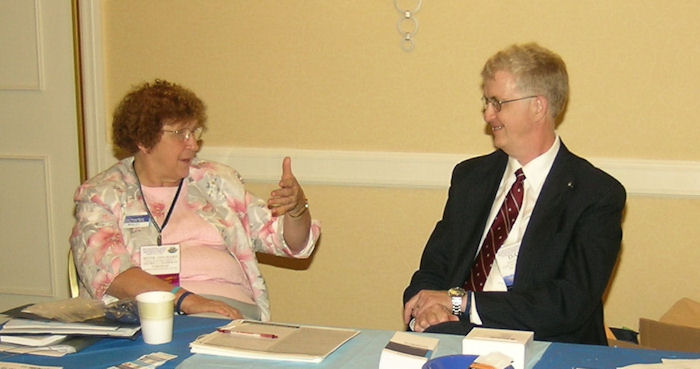 Project Eliminate Featured
Project ELIMINATE took center stage during the opening session of the District Convention on Friday.
Above, Sister Anne-Marie Kirmse, left, and Past International President Dave Curry at the Project Eliminate table at the convention. Earlier on Friday they had addressed the Kiwanians present, talking about how important the effort to eliminate neonatal and maternal tetanus is and how Kiwanians can help with the project.
Below, Curry and Kirmse address Friday's General Assembly.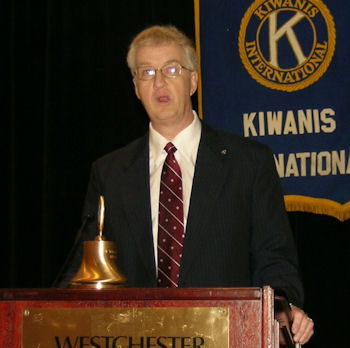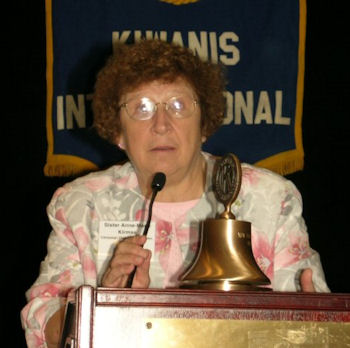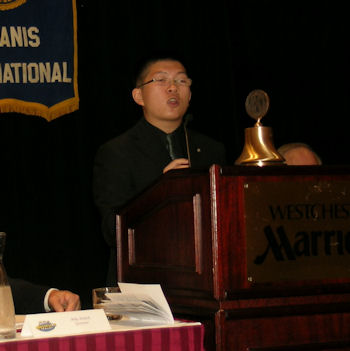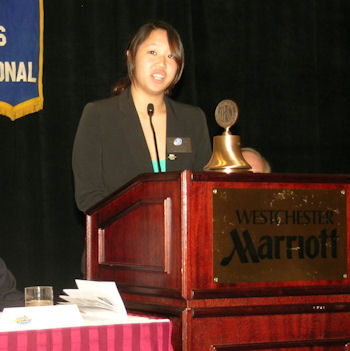 Pictured at left is New York District Key Club Treasurer Daniel Ivan Lin, who addressed the General Assembly on behalf of the Key Club Governor, Domenick Pesce, who was unable to attend. At right is Circle K Governor Josephine Lukito.

Convention Honoree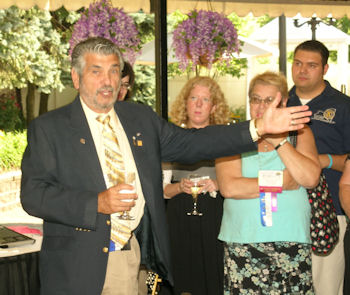 Andrew Lowenberg Honored
Andrew Lowenberg, who recently completed 14 years of service at the District Key Club administrator, was honored as the Convention Honoree with a reception on Friday at the District Convention.
Lowenberg, a member of the Sayville club, was a Key Club member himself as a high school student. He joined Kiwanis in 1984, and has served in several club leadership roles and then as lieutenant governor in 1995-96. He was club advisor to the Lindenhurst Key Club from 1990-96 and took over as district Key Club Administrator in 1997.
While he has retired from Key Club, he will serve as his club's president in the coming year.
Pictured above are, from left, David Vail, who assisted Lowenberg for many years, and Gov. Mike Malark, who chose Lowenberg as the convention honoree.

Annual Foundation Meeting
Bequests, Attendance Help Kamp Finances
Foundation President Sal Anelli reported that Kamp Kiwanis' finances are in much better shape, due in part to bequests and donations the Kamp has received, and an increase in the number of kampers.
In 2008 there were 42 adult and 512 child kampers, he said. In 2009 the number increased to 87 adults and 581 children, and in 2010, attendance grew to 85 adults and 597 children.
The "One More Kamper" campaign paid even bigger dividends in 2011, he said, when 92 adults and an expected 720 kampers attended the kamp.
During the meeting, Anelli also received the final $10,000 payment on a $35,000 pledge from his home club, Bensonhurst and Bay Ridge, to pay for a new Arts and Crafts building at the kamp. The foundation for the building is in place, and construction is due to start at the end of August. It's expected the building will be ready for the 2012 kamping season.
| | | |
| --- | --- | --- |
| Joseph Aiello | Sal Anelli | Joseph Battista |
Three candidates were elected to three-year terms on the foundation board, including President Sal Anelli and Vice President Joseph Battista, who were re-elected. Also elected was Joseph Aiello, who has been serving on the board as an appointed member.

Around the Convention
Governor's, First Lady's Project

During the convention on Saturday the Governor's Project and the First Lady's Project for the coming year were unveiled.
On the podium, from left, are Dr. Steve Perrick of the East Meadow club, working on the Governor's Project; Governor-Designate William Risbrook; 2011-12 First lady Dr. Lavonia Francis, Phyllis Belin of the Falconer club and Lou Morse of the Middletown club.
The Governor's Project asks clubs to work to improve awareness of childhood asthma in their communities and suggests actions clubs can take to inform themselves and others.
The First Lady's project comes from Dr. Lavonia's experience as a firefighter in Hempstead. She's asking clubs to work with their local fire departments to emphasize the importance of fire safety to children.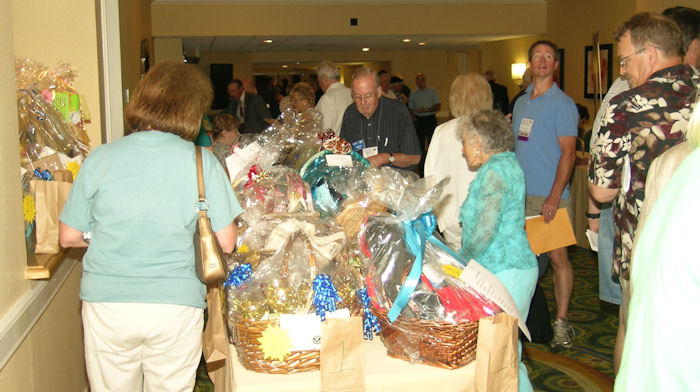 The Basket Raffle always brings the crowds.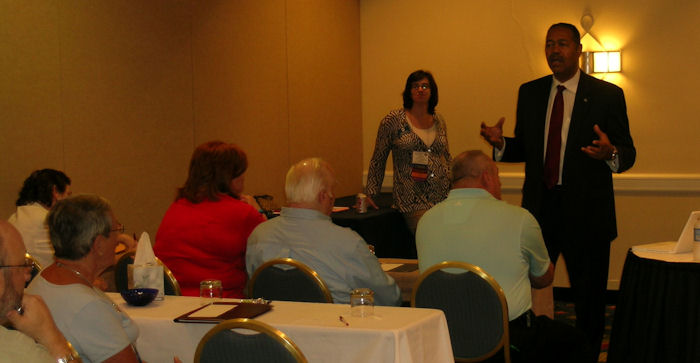 The Counselor to the New York District from the Kiwanis International Board of Trustees was Oscar Knight of San Diego. In addition to addressing the General Assembly and attending convention events, he and Kim Scharoff presented a workshop on members. Scharoff will be the district's Membership Chair for 2011-12.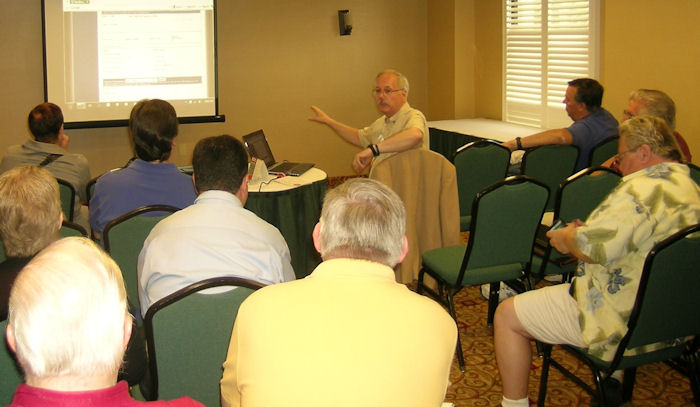 Immediate Past Governor Dave Booker presenting a workshop on online monthly reporting.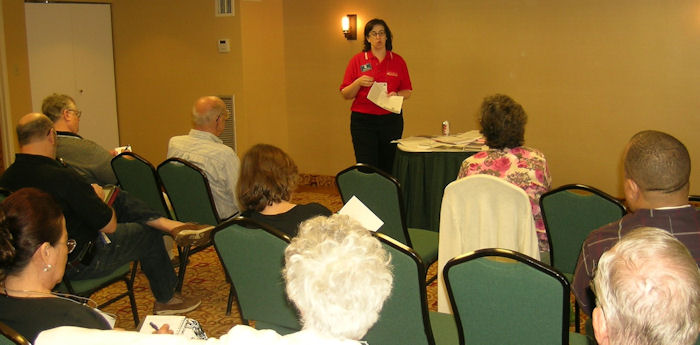 Kim Scharoff during a forum on membership.