Bowling for Babies in Bronx-Westchester South
Shown holding the winning ball, is Sue Plath, Past President of the Hartsdale Club, Joy Freeman, Past President of the Fordham club, and Sister Anne Marie Kirmse, NY District Chair for the Eliminate Project.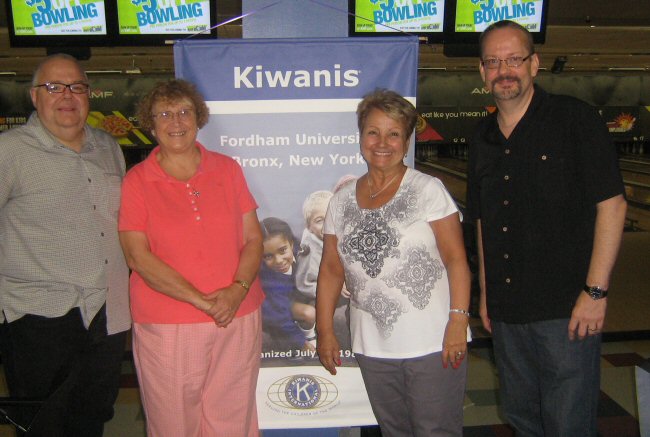 Getting ready to bowl for babies are Fordham Kiwanians Mike Feierman (club chairman), Sister Anne Marie Kirmse, Dr. Rosemary DeJulio, 2012-13 Kiwanis International First Lady, and Grant Grastorf, Fordham Club president.
Several Kiwanis clubs in the Bronx-Westchester South Division pitched bowling balls in an outing that raised more than $2,000 for the Eliminate Project to rid the world of maternal and neo-natal tetanus.
Tetanus kills babies and their mothers at birth in the most impoverished regions of more than 30 nations. Led by Fordham Kiwanis club president, Grant Grastorf, the club solicited sponsors for financial support and welcomed interclubbing members from Hartsdale, Westchester Village, and East Yonkers Kiwanis.
The bowling alley lanes were all taken by Kiwanians who wanted to make "strikes" against tetanus while having a family fun outing.
(Posted August 11, 2012)

Access More News