North Shore Honors Students of the Month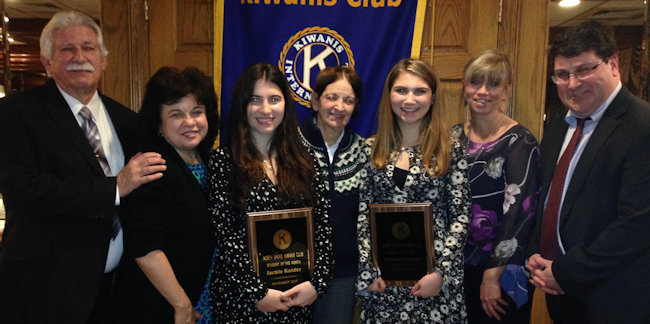 The honorees and their parents, from left, Kaider family: Parents Walter and Patrice, honoree Jackie; North Shore Kiwanis President Meredith Brosnan; The Heffernan Family: honoree Corinne and her parents Lauren and Francis
On Jan. 11 the North Shore Kiwanis club recognized students of the month, Jackie Kaider for November and Corinne Heffernan for December.
Kaider has more than 477 hrs of community service and has completed numerous projects to earn that serve time. As the VP of the Volleyball Team she raised funds during October, breast cancer month, and continued her fundraising selling bracelets for wounded veteran's. In addition to her fundraising efforts, Jackie has spent many years volunteering for the CYO volleyball program and at the camp during the summer with middle school age children.
Heffernan, the Kiwanis student of the month for December, is a talented actress and has the lead and directs numerous productions at the school. When she is not on stage, as a member of the North Shore Key Club, volunteers and lead the club during the Salvation Army bell ringing during the December holidays. Her team at the kettle raised $590. She continues her service when the Key Club visits the North Shore Aktion Club.
(Posted January 15, 2018)

Access More News