Central Adirondacks Distributes 921 Gifts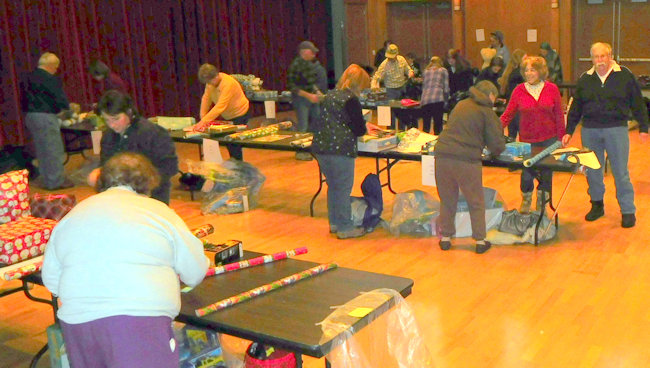 Kiwanis members and community volunteers wrap hundreds of gifts for Christmas for Kids project at VIEW.
Each year the Kiwanis Club of the Central Adirondacks collects and distributes gifts and toys to special families in the Woodgate, Thendara, Old Forge, Eagle Bay, and Inlet area and in recent years has added Long Lake and Indian Lake.
In 2017, this very worthwhile program provided gifts, toys, mittens and food for over 150 families and nearly 300 kids in the Central Adirondacks. The total distribution included 921 gifts, 75 stuffed animals for the younger children, 34 theatre tickets for the older children, 47 books, 93 sets of scarves, hats and mittens and 47 hams. The scarves, hats, and mittens were provided by the Old Forge Ladies Auxiliary as well as ladies from Big Moose. Books to each family were donated by Gary and Justin VanRiper who write the best-selling children's book series "The Adirondack Kids".
Kiwanis partners with the Marine Corps Reserve Toys for Tots Program.
The Strand Theatre assisted with discounted movie tickets and Old Forge Department Store (ACE) donated wrapping materials. The employees of the Enchanted Forest/Water Safari, Water's Edge Inn & Conference Center and the Old Forge Camping Resort did an internal gift drive and the employees of Smith Marine used the tips from their concession at Snodeo to purchase toys. The Town of Webb Schools Key Club and a number of community volunteers were major contributors to the success of the wrapping party. The December 20 gift wrapping party was held at the VIEW.
Chris Gaige, Past President of Kiwanis and Linda Kurtz Co-Chairs commented, "There were more gifts and toys and more help and cooperation for this year's project than ever before". Kurtz recognized the generosity of the entire Central Adirondack Community, she noted, "Kiwanis volunteers conducted a Christmas Raffle during Christmas On Main Street which raised over $1,230 and solicited funds at CAA's Snodeo which raised over $1,780. This year's Snodeo attendees were more generous than ever. In addition, a number of community members made financial donations. The complete support of the community is what makes this project such a success". Kurtz also thanked VIEW for allowing use of their facility for storage, sorting and wrapping activities".
(Posted December 26, 2017)

Access More News