Toy, Gift Collection Scheduled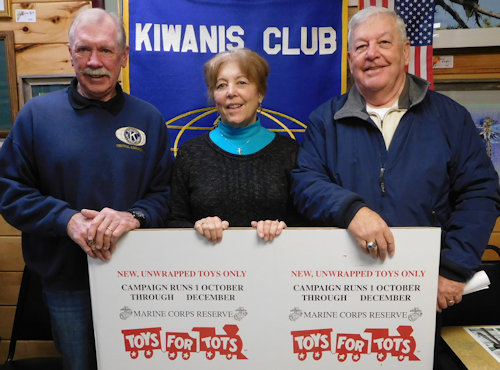 From left, Kiwanis President Mike Griffin, Christmas for Kids Co-Chair Linda Kurta and Kiwanis Member, Past President and Tots for Tots Coordinator Bill Ransom.
Each year the Kiwanis Club of the Central Adirondacks collects and distributes gifts and toys to special families in Woodgate, White Lake, Otter Lake, Thendara, Old Forge, Eagle Bay, Inlet, Raquette Lake, Long Lake and Indian Lake.
Central Adirondack Kiwanis partners with The Marine Corps Reserve "Toys for Tots" program for its annual Christmas for Kids project. In addition, to the gifts collected locally, the Marine Corps Reserve allows Kiwanis to visit their Christmas Gift Warehouse and select appropriate gifts for the children on Santa's List. Kiwanis Member Bill Ransom will be coordinating with The Marine Corps Reserve's "Toys for Tots" efforts in the Central Adirondacks.
This program provides gifts to more than 225 children in the Central Adirondack region.
Gift and Toy collection locations will be at Adirondack Bank, Community Bank, Inlet Department Store (ACE), Kinney Drugs, Old Forge Department Store (ACE), Old Forge Hardware, Smith Marine, Souvenir Village and VIEW. In addition, there are toy collection sites at the following Post Offices; Old Forge, Eagle Bay, Inlet, Thendara, Woodgate, and Raquette Lake.
The collection period runs from Nov. 16-Dec. 15.
The Key Club and Builders Club of the Town of Webb School assists Kiwanis with this important holiday project and will participate in the gift-wrapping party that is scheduled for Wednesday, Dec. 20 at VIEW beginning at 3 p.m.
(Posted November 16, 2017)

Access More News