Past Lt. Gov. Theodore Heim Honored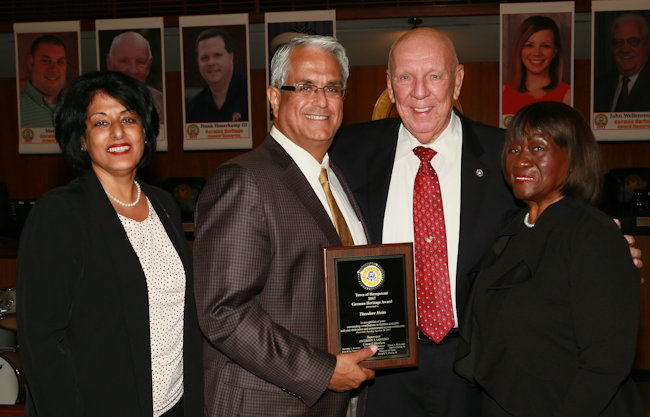 Supervisor Anthony J. Santino (2nd left), Senior Councilwoman Dorothy Goosby (right) and Town Clerk Nasrin Ahmad (left) present Hempstead Town's second Annual German Heritage Award to Baldwin native Ted Heim, past lieutenant governor of the Long Island South Central Division of Kiwanis.
Long Island South Central Past Lt. Gov. Thedoore Heim was recently honored as part of the Hempstead German-American Heritage celebration.
Heim was one of seven honorees at the Oktoberfest event, which was sponsored by Hempstead Town Supervisor Anthony J. Santino. The event recognized exceptional German-American residents who have had a positive influence in their communities while embracing and promoting German heritage and culture.
Baldwin native Theodore "Ted" Heim has a history of community service as rich as the German chocolate cake that four generations of Heims have distributed through their bakeries.
From the Baldwin Fire Department to various little leagues and Kiwanis, Ted has been working to benefit his community and others for decades, while still running a successful bakery distribution company.
Heim's parents were born in Germany, his father in Aulhausen and his mother in Dresden, but they settled in Baldwin where they opened Heim's Bakery. In 1946 Ted's father started a co-operative of bakers, Inter-County Bakers. Following his service with the Army National Guard, Ted began working for the co-operative in 1957 and by 1968 became its president. In 1995 Ted and his wife Marilyn and his son bought the company, which now employs 120 people and boasts $120 million in sales.
Heim started the West Islip Little League basketball program which today is one of the largest organizations of its kind on Long Island. He also served as president of multiple sports leagues before becoming commissioner for the Massapequa Coast Little League.
A member of the Massapequa Kiwanis club, in 2010 he commenced a drug awareness initiative with a program that involved distributing a Parents Guide to Prevention of Drugs, Alcohol and Tobacco in Children. This program earned second place for signature projects from Kiwanis International. He served as lieutenant governor for the 2015-16 year.
(Posted November 6, 2017)

Access More News