Free Car Wash Tally: 107 Vehicles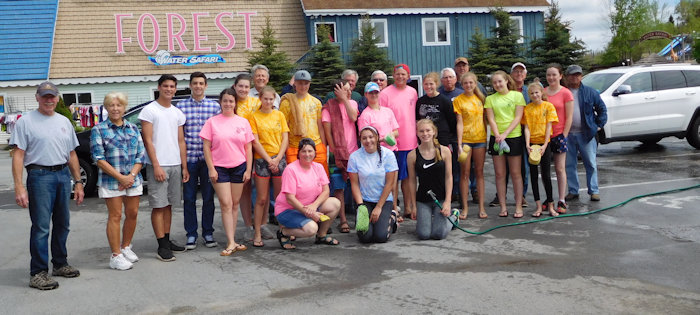 Central Adirondack Kiwanis Members. Town of Webb School Key Club and Builders Club members take a break from washing 106 cars/pickup trucks and one golf cart.
The Kiwanis Club of the Central Adirondacks, the Key Club and Builders Club of the Town of Webb School washed 106 cars and one golf cart at their 17th Annual Free Car Wash on May 27 at the Calypso's Cove Parking Lot in Old Forge. The combined Kiwanis Club and Key Club effort raised nearly $1,400.
Co-Chairman Bob Teesdale and Mike Griffin were pleased to report that the Kiwanis Free Car Wash was a great success. "We washed 106 cars and pickup trucks as well as 1 golf cart. Thanks to the 14 Kiwanians and 18 Key and Builders Club members who helped."
The event is the primary fund raiser for the Kiwanis Club's child-oriented community programs. The Kiwanis Club, Key Club and Builders Club would like to thank the following for their continuing support: The Noonan family at the Enchanted Forest/Water Safari for the use of the Calypso's Cove Parking Lot and pizzas, The Rowe Family at The Donut Shop, NAPA for donation of car wash soap, Kinney Drug Store for bottled water and chips, DiOrio's Market for soda and hot dogs the many sponsors and patrons who make this special fund raising event possible.
(Posted June 2, 2017)

Access More News