Key Club Hosts Autism Awareness Basketball Game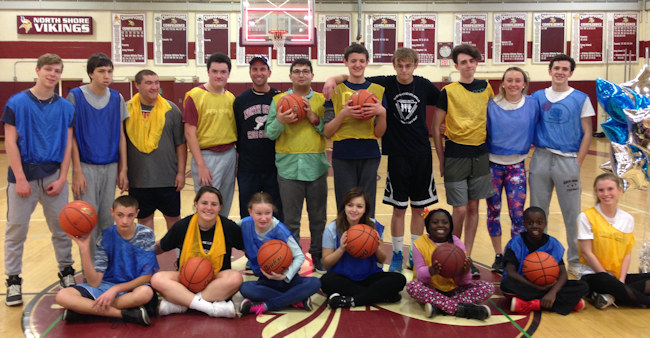 From left, back: Mitch Weinz, Alex Forstrom, Brandon Arena, Gabe Dranow, Neal levy, Sam Godlman, Dan Purcell, Marc Purcell, Sean Smith, Izzy Glennon, James Mastakouris; front: John Arena, Frankie Conklin, Krista Eder, Alexis Lovaglio, Leah Poku-Amanfo, Justin Poku-Amanfo, Eileen Quinn.
The North Shore Key Club annually hosts a basketball fundraiser for autism awareness. This year the stars of this event were the "Shooting Stars" who are members of the Life Skills Program at North Shore High School.
Shooting Stars practiced for many months to prepare for this game. At the conclusion of these practice sessions, the Key Clubbers take the court and buddy-up with the Shooting Star Team for an exhibition game that was played at North Shore High School on April 22. This event takes place during Autism month and raised $3,600 for the Autism Speaks Organization.
Students Isabelle Glennon and Frankie Conklin played a major part in training the Shooting Stars for this event.
(Posted May 9, 2017)

Access More News