Commemorative Brick Program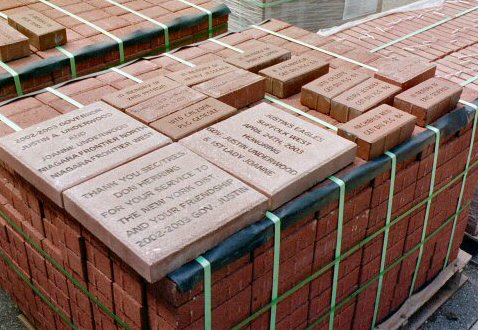 The commorative Brick Program was designed to provide working capital for Kamp Kiwanis. Each brick is custom engraved with the name of the Person, Club, Division, or in memory of that very special person in your club. These bricks cover three exterior walls of Governors' Hall at Kamp Kiwanis.
At right are some bricks ready to be installed. Also shown is a brick honoring the memory of Peter Owens Jr., who died in the destruction of the World Trade Center.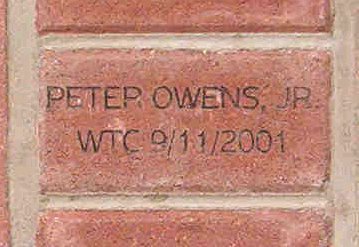 Purchasing a brick is a wonderful way to recognize the good works of an outstanding Lt. Governor, Club Officer, other club member or community leaders and an equally wonderful way to help support the growth of Kamp Kiwanis.
Below are shown the sizes, number of letters available, and cost of each size brick.


If you would like a form to order a brick, download the brick sponsorship form:
You also can search a database of bricks that have been purchased to date.


| | | |
| --- | --- | --- |
| Brick Size | Text Area | Cost |
| 4" x 8" | 2 Lines, 13 Spaces per Line | $125 |
| 12" x 12" | 6 Lines, 20 Spaces per Line | $500 |
| 16" x 16" | 9 Lines, 30 Spaces per Line | $700 |
| 24" x 24" | 12 Lines, 40 Spaces per Line | $1,500 |