Kiwanis in New York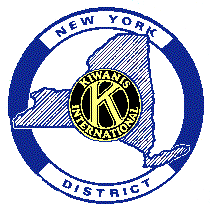 The New York District of Kiwanis International has played a key role in the history of the international organization, which was founded in 1915.
The first club in the district was Rochester. The charter process for the Rochester club was completed on May 1, 1916. The club's first president was attorney George F. Hixson.
In May of 1916, Hixson and Albert Dodge, the charter president of the Buffalo Kiwanis Club also chartered that year, participated in the first national (there were no clubs outside the United States at the time) Kiwanis meeting in May of 1916 in Cleveland, joined by members of new Kiwanis clubs from many other cities, including Cleveland, Pittsburgh and Detroit. Of the 15 clubs represented at the convention, seven were from New York: Rochester, Lockport, Buffalo, Syracuse, Utica, Albany and New York.
At that meeting Hixson was elected as the first president of Kiwanis, and Dodge was elected as the national organization's first secretary. Lawrence H. Graham from the New York City Club was elected vice president.

George Hixson

Albert Dodge
Due to the election of Albert Dodge as the organization's first secretary, the headquarters of Kiwanis International was in Buffalo for the first four years of the organization's existence. Dodge served as vice president of Kiwanis International in 1919, and in that position he chaired the 1919 Kiwanis Convention in Birmingham, Ala., which was a key event in the organization's development. In 1920 Dodge was New York District Governor.
George F. Hixson served as the fledgling organization's president for two years, the only person to do so.
During his tenure, Kiwanis became an International organization by chartering a club in Hamilton, Ontario, Canada. Hixson played key roles in the early years of Kiwanis while the organization was transformed from a commercial to a community service organization. He remained active in Kiwanis until his death in 1967.
Hixson's memory is preserved through the George F. Hixson Award, an award presented by the Kiwanis International Foundation.
Three other New York Kiwanians have served as International President; all remain involved in district activities:

Tony Kaiser
Anton "Tony" Kaiser, a member of the North Shore club, served as International President in 1987-88. An attorney, Kaiser presided over a critical year in Kiwanis history. At the International Convention in Washington, D.C., in June of 1987, delegates from Kiwanis clubs around the world elected Kaiser as their president and also voted to include women as members of Kiwanis for the first time.
By the end of Kaiser's term, clubs around the world had inducted 7,000 new women members.
Kaiser had served as governor of the New York District in 1971-72 and has served the district in other roles as well, including District Historian.
Kaiser's service to Kiwanis is remembered through the Anton "Tony" Kaiser Award, an award presented by the New York District Kiwanis Foundation.


Gerry Christiano
Gerald P. Christiano of Leicester, New York, served as International President in 1996-97. During his term Kiwanis International made its entry to the World Wide Web, creating a web site, and presented the Kiwanis World Service Medal to Mother Teresa of Calcutta.
Christiano had served as governor of the New York District in 1978-79.


Thomas DeJulio
Thomas DeJulio, a member of the Fordham, Bronx, club, served as Kiwanis International President in 2012-13. He had been elected vice president of Kiwanis International at the 2010 Kiwanis International Convention in Las Vegas, and was elected President-Elect at the Geneva, Switzerland, convention in July of 2011, and as President of Kiwanis International at the 2012 convention in New Orleans.
DeJulio had served as governor of the New York District in 1996-97. He also has served in other roles for the district, and for many years was active in Circle K at the district level.

New York District
Early Clubs
Eight of the first 25 Kiwanis clubs in the world were formed in New York State. The following clubs were organized from 1916-19:


| | | |
| --- | --- | --- |
| Club | Date Completed | Club # |
| Rochester | May 1, 1916 | 4 |
| Lockport | May 17, 1916 | 6 |
| New York City | June 2, 1916 | 8 |
| Buffalo | July 3, 1916 | 12 |
| Syracuse | July 15, 1916 | 14 |
| Albany | Aug. 10, 1916 | 16 |
| Utica | Sept. 23, 1916 | 22 |
| Troy | Oct. 25, 1916 | 24 |
| Binghamton | March 6, 1918 | 94 |
| New York City (second club) | July 15, 1918 | 98 |
| Niagara Falls | Dec. 12, 1918 | 107 |
| Elmira | May 10, 1919 | 136 |
| Schenectady | May 15, 1919 | 138 |
| Auburn | Nov. 13, 1919 | |

Clarence Nelson
Kiwanis was three years old when the District was organized Sept. 27, 1918, in Syracuse. At the time there were eight clubs in the district: Rochester, Lockport, Buffalo, Syracuse, Albany, Binghamton, Utica and New York City. There were 37 delegates in attendance, and Clarence A. Nelson of Utica was elected as the district's first governor. Nelson served as governor for two years, the only person to do so.
The second convention, Sept. 25, 1919, in Elmira, was attended by only seven Kiwanians, but the organization was growing quickly so that in 1920 there were 455 Kiwanians at the third district convention, which took place in Utica.
Many Past District Governors remain active in Kiwanis. For more information on past governors, go to the Past Governors page.
---
The historical information here is from Dimensions of Service: The Kiwanis Story and The Men who wear the K, both books by L.A. "Larry" Hapgood; from the April-May, 1941, issue of The Empire State Kiwanian which marked Kiwanis' 25th anniversary; and from Spartans of Destiny, a history of the New York district published in 1965.