Club Sponsors Anti-Bullying Program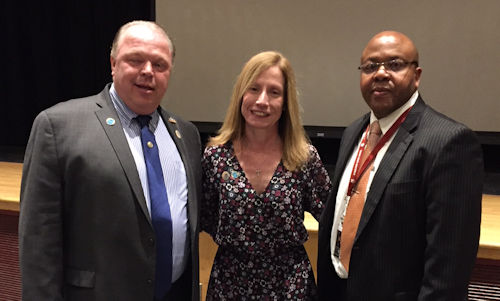 Lt. Gov. Keith Cummings, Michele Geresi, Dr. Mark Pitterson, BKW Principal.
On March 27, Metropolitan Lt. Gov. Keith Cummings and Michele Geresi presented an anti-bullying program at Berne-Knox-Westerlo Central Schools in an event sponsored by the Kiwanis Club of the Helderbergs.
Cummings and Geresi made two presentations to middle school and high school students.
Dr. Mark Pitterson, Principal of both schools, thanked them for making the trip and their presentation:
"I am extending my gratitude to both you and Keith for driving such a long way from Staten Island to Berne to render such a wonderful and well needed presentation on bullying and the effects of bullying. Your presentation was well received by the students, and I am confident that it will make a tremendous difference. Please pass along my heartfelt thanks to Keith and the Kiwanis International organization on behalf of Berne-Knox-Westerlo School District."
(Posted March 30, 2018)

Access More News