Club Celebrates Award for Member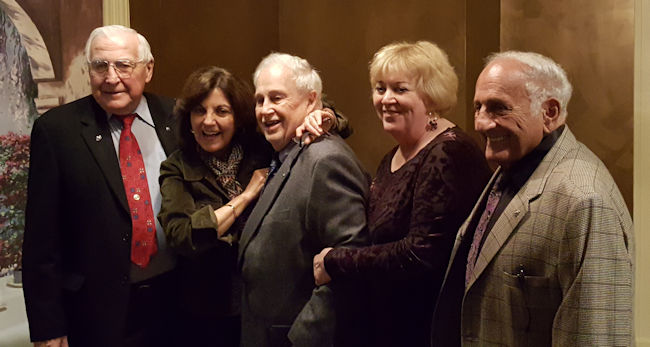 From left, Jerry Christiano, John's wife, Roseanne, John Hanratty, Doreen Pellitieri and Bob Calabrese.
On Feb. 27 the Penfield-Periton Townships club celebrated the district honor received by one of its members.
Distinguished Past Lt. Gov. John Hanratty has been selected to receive the Gerald P. Christiano Distinguished Service Award. He was selected by the district Past Governors' Council at the recent Mid-Year Conference.
The formal award presentation will take place at the District Convention in August.
On hand for the celebration was Past International President Jerry Christiano, for whom the award is named; Past Gov. Bob Calabrese of the Penfield-Perinton Club, who nominated Hanratty for the award, and Past Gov. Doreen Pellittieri of the Webster club. Members from other clubs in the division and from the Genesee Division also were in attendance.
Hanratty was honored for his service on behalf of the Finger Lakes Division supporting the Golisano Children's Hospital in Rochester. He chaired the division's completed drive to raise $75,000 for the hospital, and continues to head up its efforts to fund the Kiwanis Familiy Support Fund at the hospital, which is used to help families of hospitalized children with incidental expenses related to their child's hospitalization.
(Posted March 1, 2018)

Access More News