Peninsula Event Supports SIBSPlace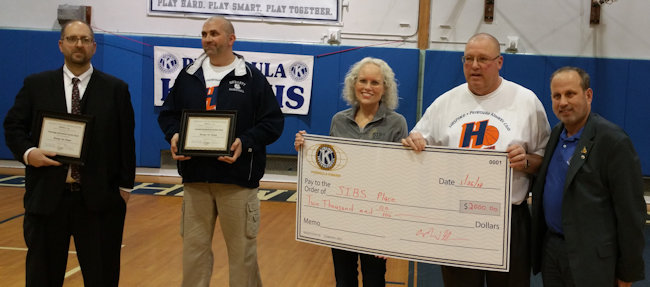 From left, Plainedge Coach Nick DeSimone, Hewlett Assistant Coach Andy DeBernardo, Suzanne Kornblatt, Director Sibs Place; Hewlett Coach and Peninsula Kiwanis Member Bill Dubin and Peninsula Kiwanis President Michael Gliner.
Peninsula Kiwanis sponsored the Hewlett Basketball Hoops for Hope Basketball game on Jan. 26 to benefit SIBS Place. This is the 15th year of the event and Peninsula Kiwanis has been the major sponsor every year. The event has raised more than $100,000 during this time. Hewlett High School boys and girls teams played the Plainedge High School teams.
SIBSPLACE is a free therapeutic program of South Nassau Communities Hospital. The program serves children ages 5-17 who are living with a sibling with cancer or another devastating illness, or a parent with cancer. SIBSPLACE provides support and attention to the unique experience and needs of the well children as they face the issues and conflicts related to the illness of their loved one.
(Posted January 28, 2018)

Access More News