Students of the Month Honored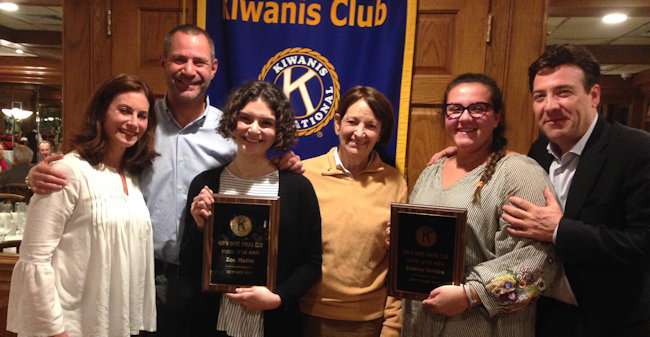 From left, Malin family parents: Rachael, Gary and honoree Zoe; Kiwanis President Meredith Brosnan; honoree Lindsay Malin and father Scott.
The North Shore Kiwanis Club rencently honored two students of the month.
For September they honored Lindsay Golden for her outstanding efforts as a student ambassador traveling abroad with the Rustic Pathways Organization to Costa Rica, Tanzania, and Thailand. She taught English, built homes, schools, and worked with refugees as well as volunteering at a Elephant Conservation Facility. Her goal is to one day return to these countries and continue her volunteer work. She is currently the school president for the SGO and has been the president of her class for all years at North Shore High School.
The October honoree was Zoe Malin who has an extensive portfolio spearheading efforts for the recent devastating disasters in New Orleans and Texas. Her passion is journalism and has been published in numerous and very prestigious publications and has won many awards for her talents as a writer. She is the founder of a company called "To Be Gluten Free" and was the featured vender at the Sea Cliff Mini Mart, Farmers Market Across Long Island and The Glen Cove Culinary Delights Festival.
(Posted November 19, 2017)

Access More News