Club Thanked for Event Support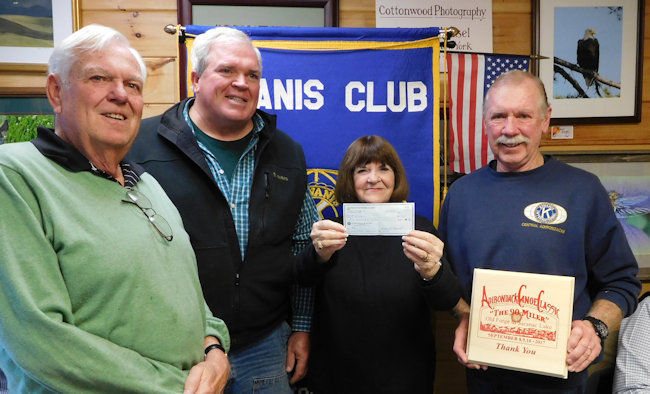 From left, Kiwanis Member and Safety Boat Commodore Doc Foley, 90-Miler Organizer Brian McDonnell, Kiwanis Past President and event coordinator Sheila Brady and Kiwanis President Mike Griffin.
On Oct. 19, the Kiwanis Club of the Central Adirondacks was recognized by Brian and Grace McDonnell organizers of the Adirondack Canoe Classic. Brian presented club President Mike Griffin with a plaque and a $500 donation for the Kiwanis support of the annual event.
For many years the Kiwanis Club of the Central Adirondacks has provide 10 Safety Boats spread out along the Fulton Chain of lakes from Old Forge to Inlet. The safety boats provide continuity of protection for the racers in case of any mishap.
The Adirondack Canoe Classic, also known as the 90-miler, is a three-day, 90-mile (140 km) canoe race from Old Forge to Saranac Lake. The race is organized by Brian and Grace McDonnell of Saranac Lake and has drawn as many as 500 competitors paddling 250 canoes, kayaks and guide boats.
Held every fall since 1983 on the weekend following Labor Day, the race follows routes traveled by the region's early settlers and Adirondack guides.
(Posted October 30, 2017)

Access More News