Woodridge Awards Scholarships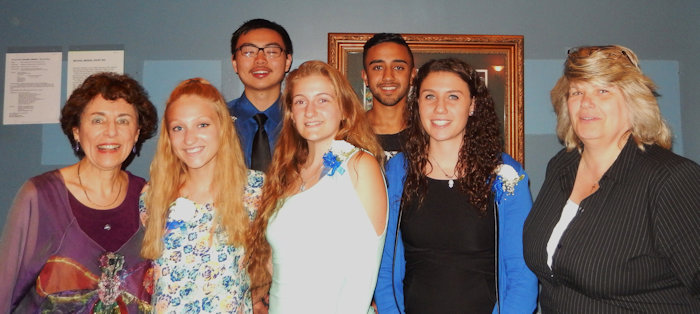 From left, front: Sue Kasofsky, Master of Ceremonies; Mary Elizabeth Kellerman; Mekayla Perneszi; Brittany Leventoff; Deb Jacobsen, Kiwanis President; back: Pu (Sam) Zheng and Mirza Javed.
The Kiwanis Club of Woodridge held its 18th annual scholarship dinner on June 8. Scholarships were given to graduating Fallsburg Central School seniors who will be attending an accredited two- or four-year college, other higher education program, or trade school. This year the club awarded $1,000 scholarships to five graduates, bringing the total scholarships given to date to $69,900.
Graduates must complete an application to be reviewed by the clubs's Scholarship Committee and meet the following criteria: academic achievement, community and school service and need.
The graduates given this year's Kiwanis Club of Woodridge scholarship are: Mirza Javed of Woodbourne; Mary Elizabeth Kellerman of Mountain Dale; Brittany Leventoff of South Fallsburg; Mekayla Perneszi of Hurleyville; and Pu (Sam) Zheng of Woodridge.
(Posted June 12, 2017)

Access More News