Kiwanis International Foundation Awards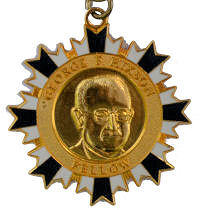 Recipients of these awards from the New York District can be viewed here on the web site.
George F. Hixson Fellowship
The Hixson Fellowship was established in 1983, named for Kiwanis International's first president. Hixson, an attorney in Rochester, N.Y., and a member of the Rochester club, New York's first, was a key figure in the first few years of the organization's existence.
Donations of $1,000 or more allows the Hixson fellowship to be bestowed on someone you want to honor.
Hixson fellows who make an additional $1,000 donation receive a second pin and a special tab noting that they are a Diamond Level Hixson Fellow.

Walter Zeller Fellowship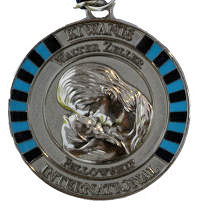 The Kiwanis International Foundation was created in 1940. Its first gift was 25 silver dollars from Walter Zeller. It was designed to spur support for the effort and it worked, as the silver dollars were auctioned off, raising $625 for the foundation.
When Kiwanis International adopted the Eliminate Project the foundation created a new award in Zeller's name. Donations of $1,250 to the Eliminate Project enroll a person as a Walter Zeller Fellow.
As part of the Zeller program, several special Zellers have been offered as well, including a Charter Zeller and a Mother's Day Zeller. A Presidential Zeller Fellowship can only be presented to individuals who served as a club president during the Eliminate Project campaign.
Tablet of Honor
A gift of $2,000 or more allows someone to be honored with a Tablet of Honor.
Leadership Society
With a donation of $250 you can honor someone by making them a member of the Kiwanis Leadership Society. The honor can be used to recognize outgoing club officers, charter club members or anyone who you wish to honor. Individuals also can join the society by making a gift in their own name.