Eliminate Project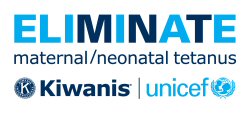 The Eliminate Project is the effort by Kiwanis International to rid the world of Maternal and Neonatal Tetanus. Kiwanis has agreed to raise $110 million during a multi-year project to be conducted with UNICEF.
To eliminate MNT, more than 100 million mothers and their future babies must be immunized.
MNT killed 59,000 newborns in 2008 alone. Once the disease is contracted the fatality rate can be as high as 100 percent without hospital care, and 10 to 60 percent with hospital care.
The task at hand is large but achievable. When the World Health Assembly first called for elimination of neonatal tetanus in 1989, there were 57 countries that were faced with the disease. By November 2011, the number of countries were MNT was a problem had been reduced to 38; it now stands at 21.
More than $100 million has been raised so far.
More information is available on the Kiwanis International web site.
New York District and the Eliminate Project
You can see what New York Kiwanians are doing to support the project.
Club Support
Clubs are able to show their support for the Eliminate Project by pledging at various levels.
The following clubs have agreed to be 100K clubs, donating a total of $100,000:
Chinatown, New York City
Fordham, Bronx
The following club has agreed to be a Platinum Club, requiring a donation of an average of $1,500 per member:
The following clubs have agreed to be Model Clubs, requiring a donation of an average of $750 per member:
Amherst
East Greenbush
East Yonkers
Hartsdale
Huntington
Lewiston
Middle Village
North Central Staten Island
Patchogue
Sand Lake
Sayville
Three Village-Brookhaven
York-Leicester
Eliminate Project District Advocates
• Eliminate Project
Kimberly Davis
PO Box 1903
Plattsburgh, NY 12901
(H) (518) 536-0934
(Cell) (518) 536-093
E-Mail: plattsburghrunner@gmail.com
Home Club: Plattsburgh Noon

• Eliminate Project
• District Convention - On-to-Syracuse

Brenda Leigh Johnson
6 Caribou Court
Huntington, NY 11743
(H) (631) 316-3502
E-Mail: blj44@yahoo.com
Home Club: Huntington

• Eliminate Project
Ronald Parent
405 Lynnbrook Drive
Youngstown, NY 14174
(H) (716) 745-7591
(B) (716) 405-6033
(Cell) (716) 534-1953
E-Mail: lewistonkiwanis@hotmail.com
Home Club: Lewiston