2008 District Convention
House of Delegates



Gov.-Designate
Doreen Pellittieri




Gov.-Elect-Designate
David Booker
Pellittieri, Booker Elected
Doreen Pellittieri was elected Governor for 2008-09 and David Booker was elected Governor-Elect during the House of Delegates Saturday at the District Convention.
Neither candidate was opposed. Pellittieri, a member of the Webster club and a past Lt. Gov. of the Finger Lakes Division, will take office on Oct. 1.
Booker is a member of the Sand Lake club and served two years as Lt. Gov. of the Van Rensselaer Division. He's also served four years on the district's TAG Team and has served in several other district, division and club roles.
Below, Pellittieri's family, standing at the rear of the dias, joined her following her election.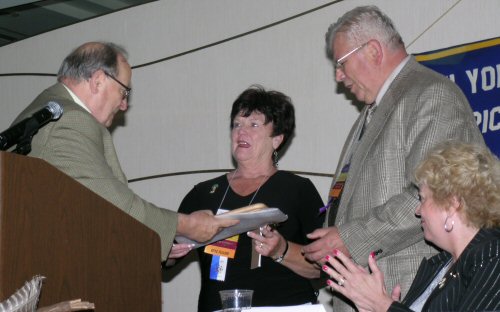 Yochums are Convention Honorees
Past Gov. James Yochum and Former First Lady Mary Yochum were the Convention Honorees.
They were honored for their service to the district during Jim Yochum's year as governor and for their continuing dedication to Kiwanis.
A member of the West Seneca club since 1968, Jim Yochum served as governor in 1998-99 and has held various district positions for more than 30 years, including Finance Chair and District Treasurer.
Pictured at right are Gov. Don Herring, making the presentation to Mary Yochum as Jim Yochum watches. Seated at right is Gov.-Elect Doreen Pellittieri.
One Bylaw Change Passed, Two Defeated
Delegates approved an amendment to the district bylaws designed to bring the district's committee structure in line with the one designed by Kiwanis International.
Any committees in addition to those listed by Kiwanis International would require approval by the district Board of Directors.
Delegates gave the amendment the two-thirds support necessary for its approval.
A second amendment which would have made Lt. Gov. Designates at-large delegates to the district convention was defeated. Although the change had majority support, it fell short of the two-thirds needed for approval, reported Shirley Conrad, the Elections Committee chair.
A third proposal, which would have made it possible for someone who had never been a club president to serve as lieutenant governor if the candidate had two-thirds support from the district Board of Directors, was defeated.
Seven Resolutions Approved
Delegates approved seven resolutions:
Honoring James and Mary Yochum as the convention honorees.
Thanking the Central Division and the Convention Committee for their efforts on planning the convention.
Pledging support to continue to honor military veterans serving as Kiwanians.
Expressing the district's support for the 2010 candidacy by Past Gov. Thomas DeJulio for the office of Vice President of Kiwanis International. (The full text of the resolution is available.)
Noting the presentation of the Gerald Christiano Distinguished Service Award to Ernie and Mary Lou Smith.
Expressing appreciation to Donald Sanker, the district's counsel from the Kiwanis International Board.
Thanking District Secretary Justin Underwood for his two years of service in that role.
General Assembly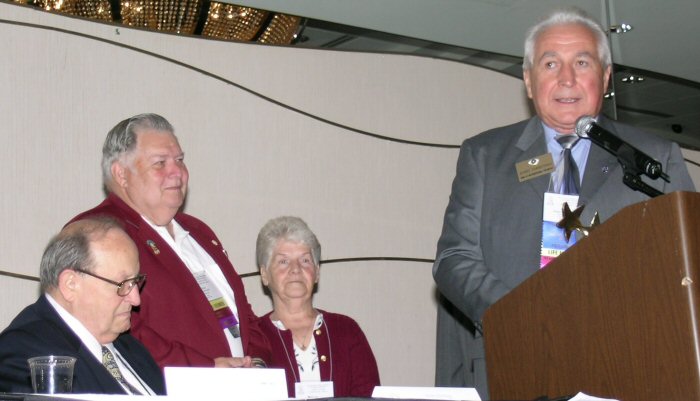 Ernie, Mary Lou Smith Receive Award
Ernie and Mary Lou Smith, volunteers behind the scene at many Mid-Year Conferences and District Conventions for more than 20 years, were awarded the Gerald Christiano Distinguished Service Award at the District Convention Friday morning.
Pictured, from left, are Gov. Don Herring, Ernie Smith, Mary Lou Smith, and Past International President Gerald Christiano during the presentation. The award winner is selected each year by the district's Past Governors. It honors Kiwanians for their contributions to the district.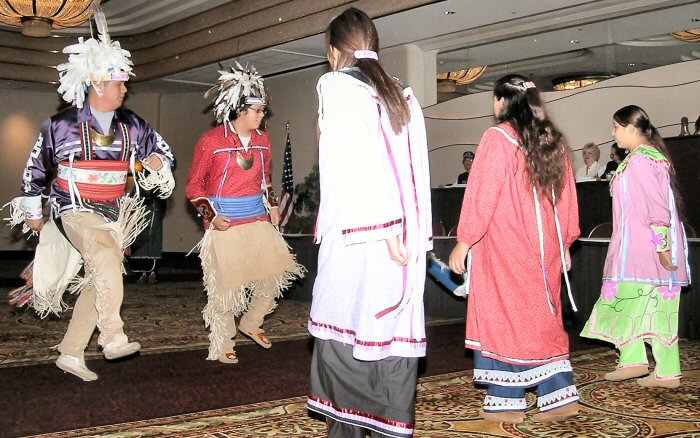 Dancers from the Oneida tribe gave a performance to open Friday's general session.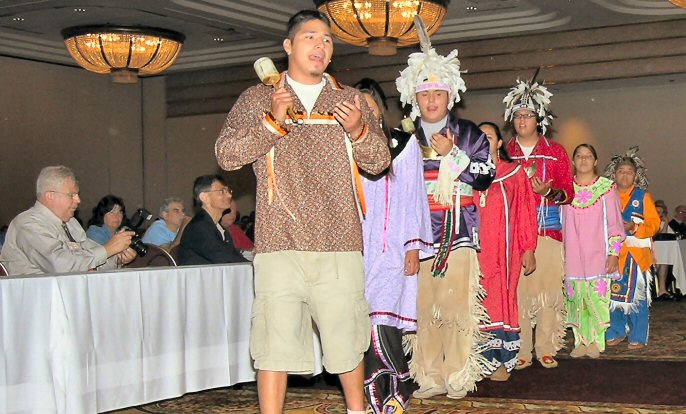 Annual District Foundation Meeting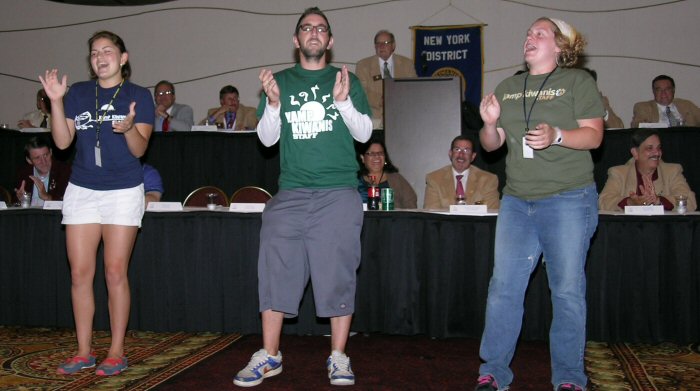 Kamp Kiwanis Attendance Up
Shown above at right are pictures of counselors from Kamp Kiwanis leading the Kiwanians in attendance in song during Friday's District Foundation Annual Meeting.
Kamp Executive Director Rebecca Lopez reported it's been a successful summer at Kamp Kiwanis so far, and the largest group of kampers of the summer 138, is due next week.
The kamp served 541 children and 46 adults this year, she said. Among the children were 227 children with special needs, a number which is substantially more than in past years, she said.
The kamp had 47 staff this summer, 31 of whom were from outside the United States. Those 31 international staffers represented 14 countries, she said.
Lopez and Foundation President Sal Anelli reported on the $75,000 in damage to the kamp that occurred during two storms in June. Felled trees and a washed-out retaining wall at the kamp pond were the worst of the problems, which did not affect the opening of kamp as a result of quick response by volunteers and others.
Anelli reported that some Kiwanians were at the kamp the day following the June 10 storm beginning the clean-up.
Sal Anelli

Joseph Battista

William Jackson

Foundation Board Elections

Three seats were open in elections for the foundation board. Winning election were Anelli, Joseph Battista and William Jackson.
Around the Convention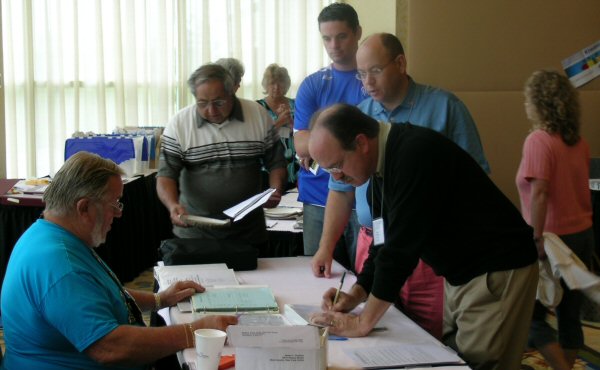 Ronald "Butch" Springhorn (left) signs in Past Finger Lakes Lt. Gov. Dave Sewert as a delegate.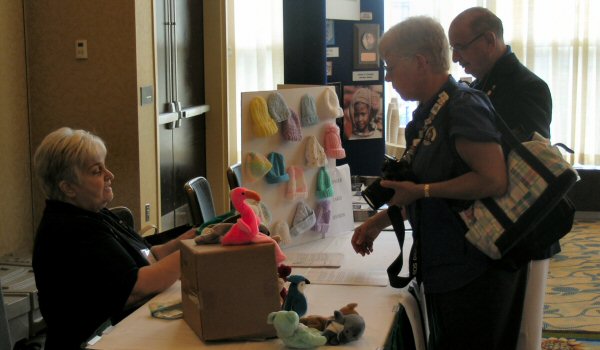 Kiwanians at an exhibit table.
Gov.-Elect Doreen Pellittieri and Gov. Donald Herring fielded questions from Kiwanians during a forum on Saturday morning.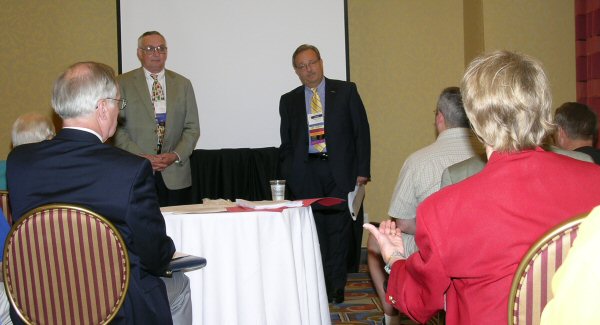 Don Sanker, New York District's Counselor from the Kiwanis International Board of Trustees, and Thomas DeJulio, a New York Past Governor who also serves on the International Board, discussed new initiatives being planned by Kiwanis International during a forum.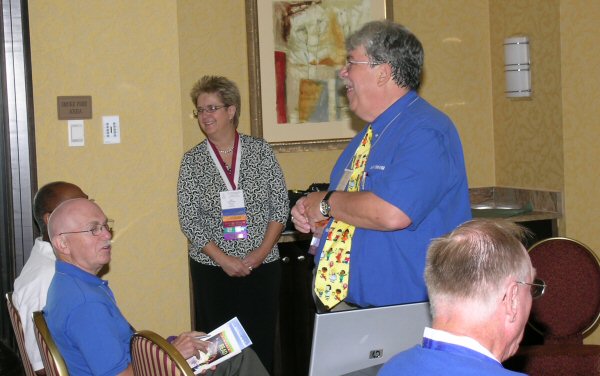 Standing, from left, incoming District Secretary Ann Sewert and District Secretary Justin Underwood meet with club secretaries.