2017 Mid-Year Conference
The 2017 Mid-Year Conference took place Feb. 10-12 at the Villa Roma Resort in Callicoon.
District Board Meeting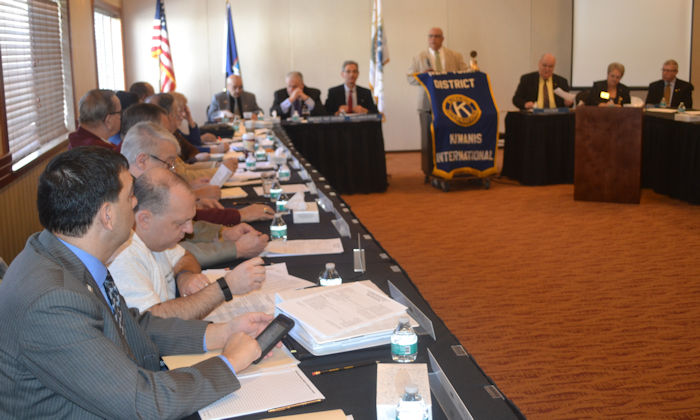 Gov. Stephen Sirgiovanni (at the podium) speaking during Friday's District Board meeting.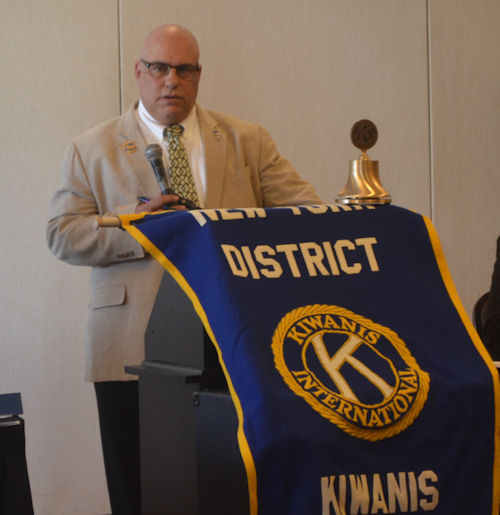 Sirgiovanni.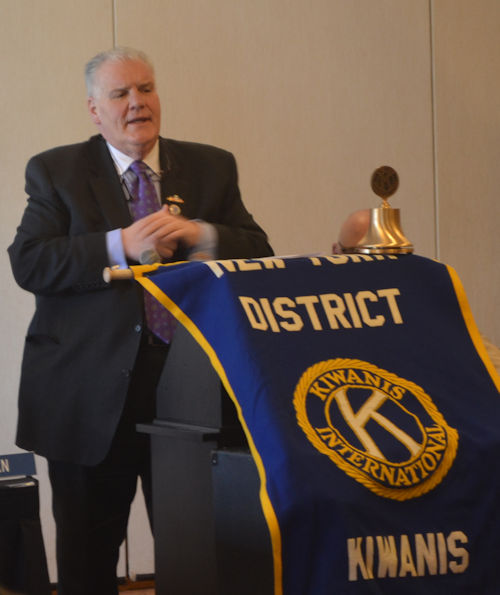 Past Gov. Forbes Irvine speaking to the board.
Kiwanis International President-Elect Jim Rochford at the board meeting.
Opening Session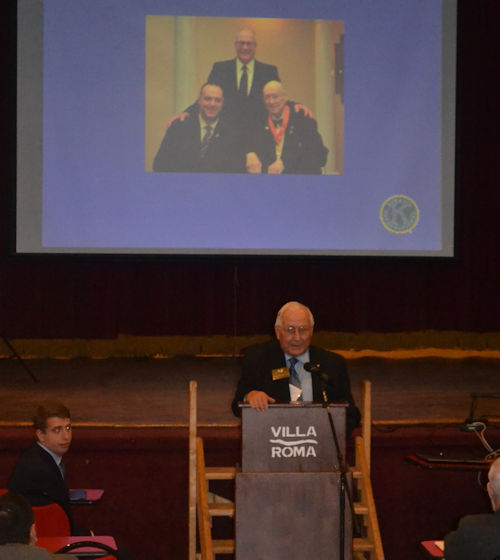 Friday's opening session began with a remembrance for Past Gov. Jack A. Tetamore, who recently died. Fellow Genesee Division Kiwanian Past International President Jerry Christiano (at the podium) told the session about Tetamore's service to the district, 59 years of Kiwanis membership and his relationship with George Hixson, the first president of Kiwanis International. In the picture above Christiano, Tetamore is on the lower right.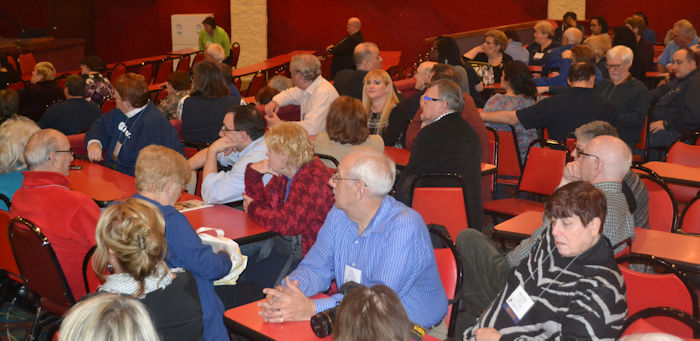 Kiwanians at the opening session.
Pajama Party
On Friday evening a Pajama Party was conducted. Participants were asked to bring bedding items to be donated to Kamp Kiwanis, and to have some fun by coming in their pajamas. Many did.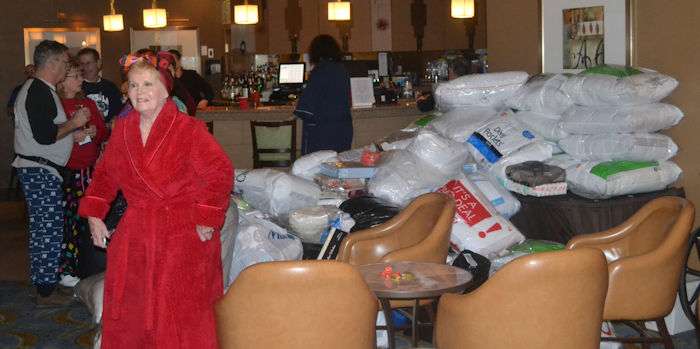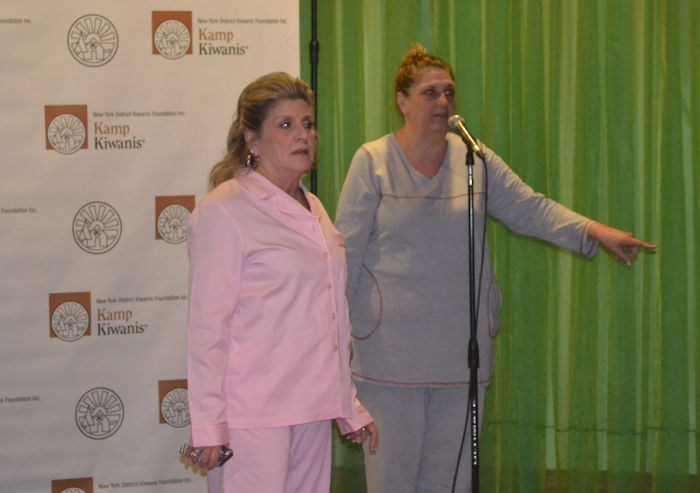 The event's organizers, Carol Anelli (left), wife of Foundation President Sal Anelli, and Past First Lady Helene Irvine.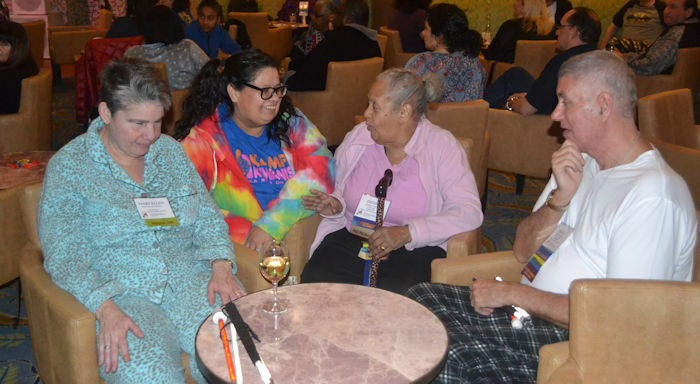 Kamp Executive Director Rebecca Clemence (in the Kamp t-shirt) with other Kiwanians.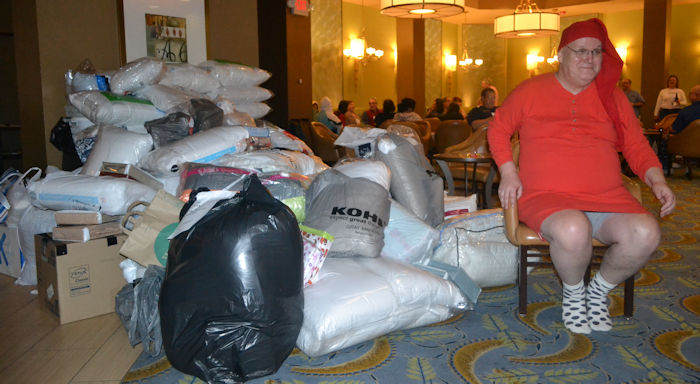 District Secretary Rich Hall was hard to miss. Shown with him are the items which were donated.
Forums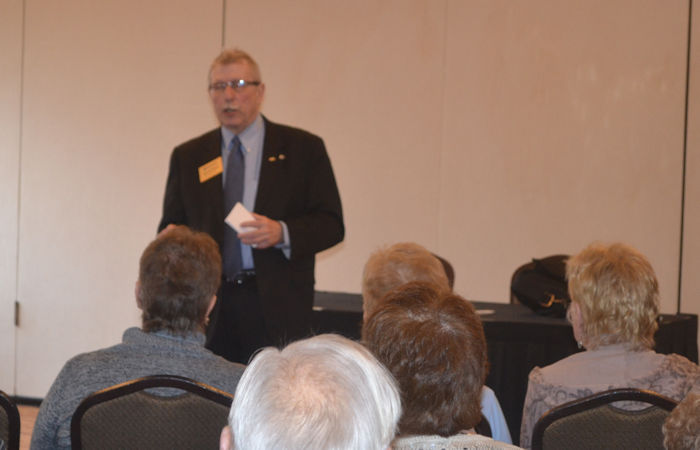 Kiwanis International President-Elect Jim Rochford conducted three sessions on membership recruitment, opening and strengthening clubs.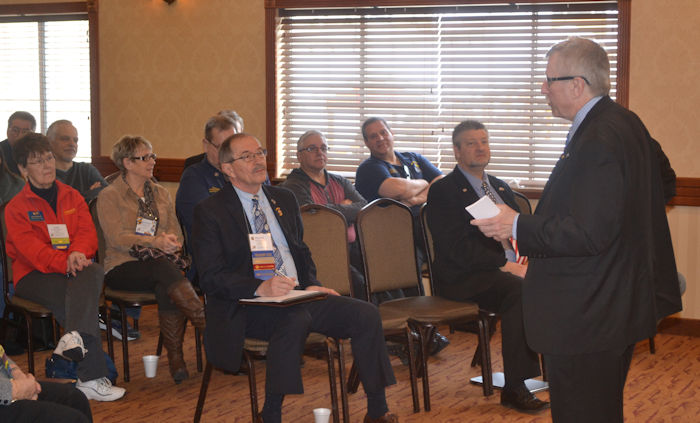 Rochford during his forum.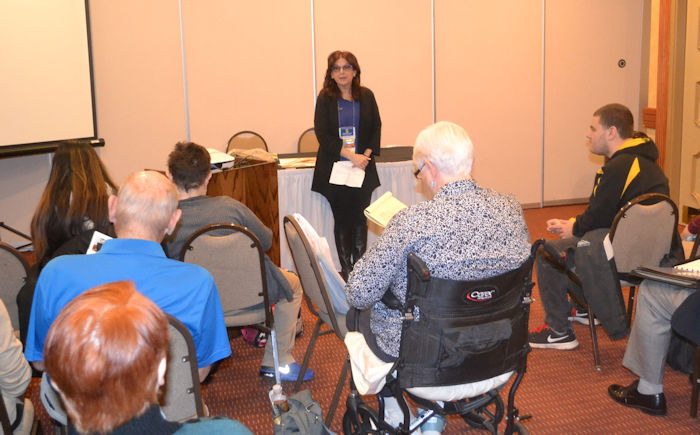 District Aktion Club Administrator Debra Rothman during a forum on Aktion Clubs.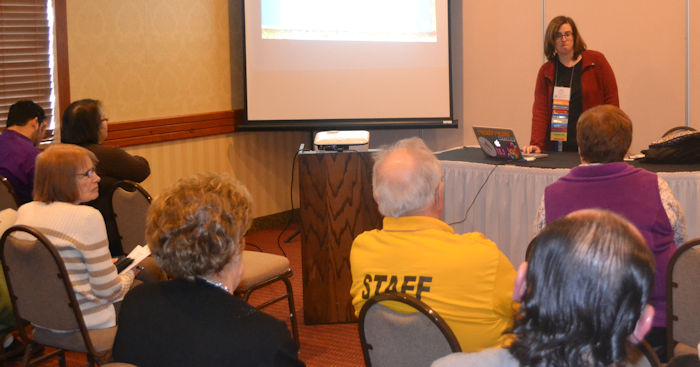 Kim Scharoff did training for club secretaries.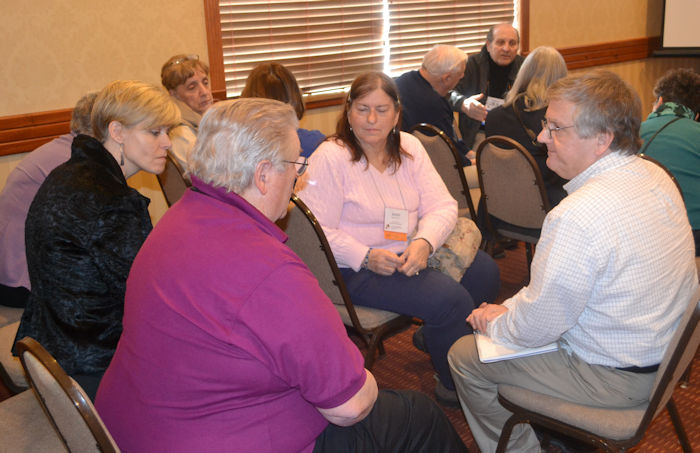 A group discussion during a forum presented by Kiwanis International's Lanton Lee on membership.
Around the Conference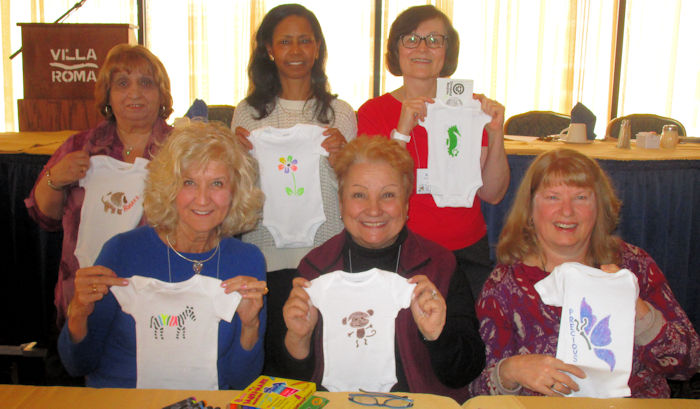 On Saturday morning a group of first ladies spent some time decorating "onesies" as part of the Warm Beginnings project. Others also joined in the project.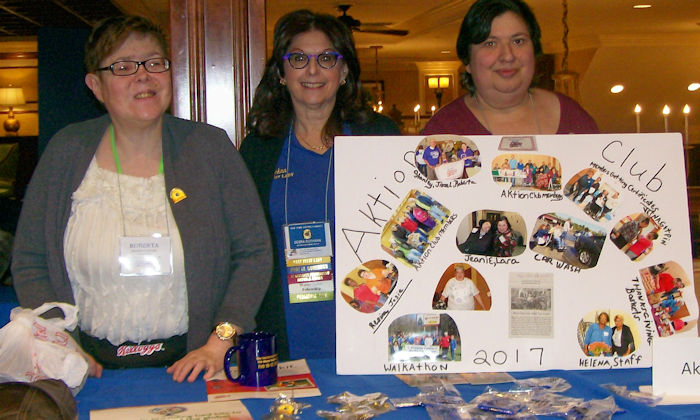 Roberta and Lara with Aktion Club Administrator Debra Rothman (center) at the Aktion Club table.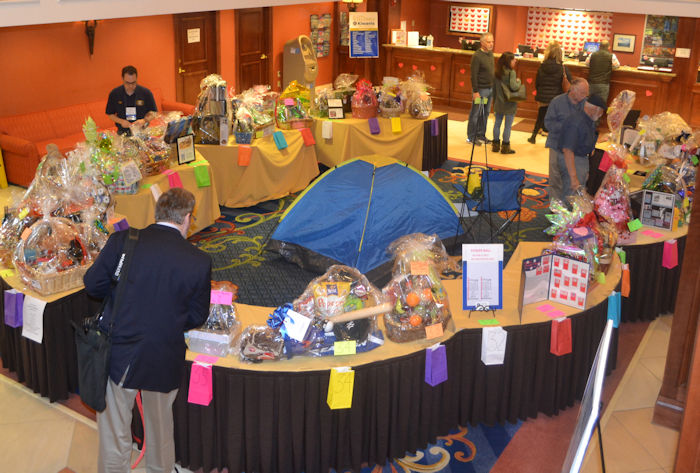 The baskets for the basket raffle.
Awards Presentations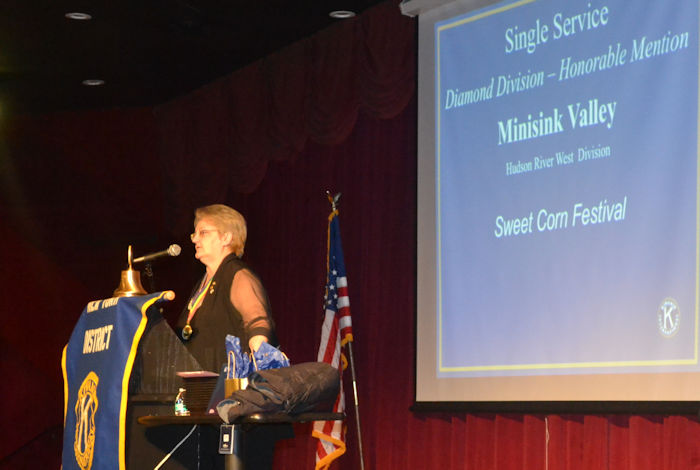 Gov.-Elect Candace Corsaro presenting the Achievement Awards for 2015-16.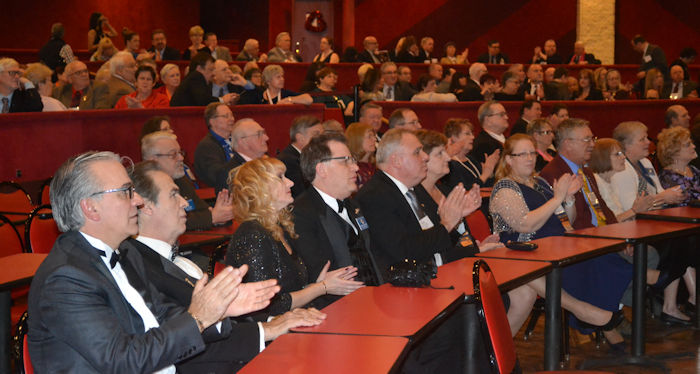 The audience applauds.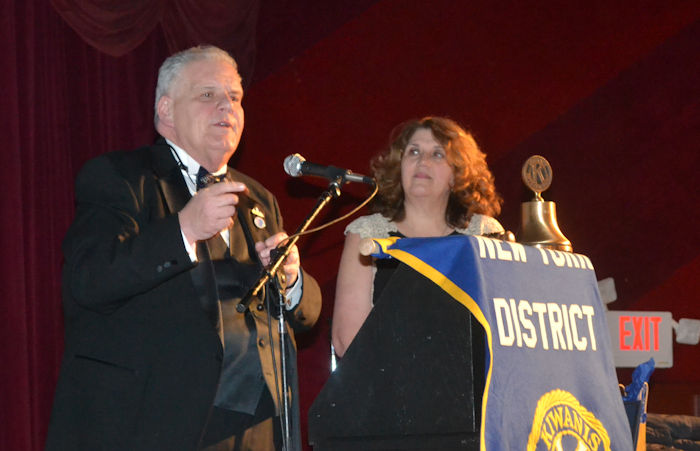 Past Gov. Forbes Irvine and Past First Lady Helene Irvine speaking before they presented awards.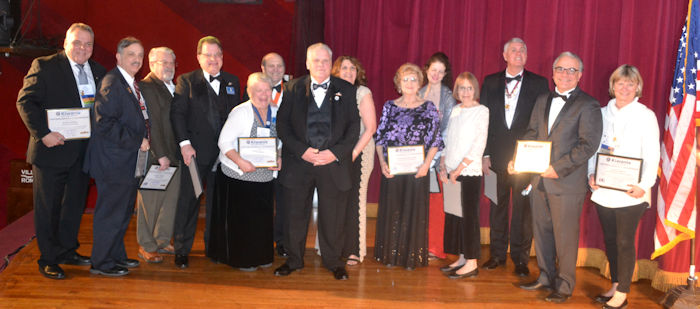 The Irvines pictured with the distinguished lieutenant governors for 2015-16.
Distinguished Lieutenant Governors
Irvine honored the following as Distinguished Lieutenant Governors for 2015-16: John Bartunek (Bronx Westchester South), Nancy Nicastro (Chemung), Jordan Neuringer (Finger Lakes), Anne Kelly (Genesee), Barb Ewanciw (Hudson River West), Jeanne Egan (Long Island North), Charles Cronin (Long Island South Central), Donald Pagano (Metropolitan), Jack Purdy (Mohawk), Susan Smith (Niagara Frontier North), Joseph Eppolito (Ontario), Julie Watterson (Suffolk East), Robert Kueber (Queens West) and Patricia Lane (Van Rennsselaer).
He honored five of them with the additional honor of being "Super Distinguished". They were Ewanciw, Egan, Cronin, Smith and Kueber.
Irvine also honored two individuals for their efforts. Female Kiwanian of the Year was Jeanne Egan, and the male Kiwanian of the Year was Keith Cummings.
Banquet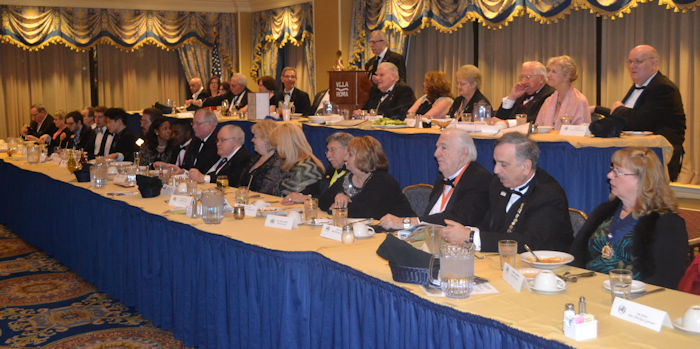 Rochford was the keynote speaker for Saturday's banquet.