Outstanding Club Projects 2012-13
Young Children Priority One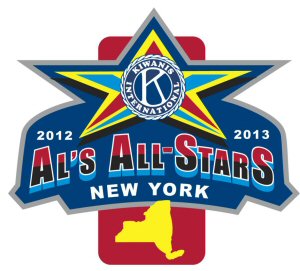 Coral

Orchard Park, Niagara Frontier South - Supplying Bears, gift bags and homemade blankets to Ambulatory Care Center for Children
Marilla, Niagara Frontier South - "Comfort Dolls" to Children's Hospital
Gravesend, Brooklyn - "Read Aloud" program to Children
Golden K Rockaway Blvd So. Ozone Park, Queens East - Baby Shower for needy mothers

Emerald

Monticello, Hudson River West - "Boo Boo Bunnies" project
Youth Services (other than SLP efforts)
Coral

Falconer, Southwestern - Gift Bags for the After Prom Party at HS
Sunnyside, Queens West - Ongoing efforts with planning for a Community Center
Mamaroneck-Harrison-Rye, Hudson Tri County - Bike Helmet assistance program
New Scotland, Capital - Halloween Party for 150 kids
Joseph Michael Wuest, Morris Park, BWS - Christmas Celebration for Emotionally Challenged Youth

Emerald

Ogdensburg, St. Lawrence - Kiwanis Baseball League
Nunda, Genesee - Support of Babe Ruth Baseball League
Hoosick Falls, Van Rensselaer - Support of Baseball and Softball Leagues

Ruby

Howard Beach, Queens West - Halloween Parade project
Howard Beach, Queens West - Ongoing support of Boy Scout Troop
La Guardia Airport, Queens West - Flushing Meadow Soap Box Derby
Chester, Hudson River West - Toy Land and Santa Day for area under privileged kids

Emerald

York Leicester, Genesee AND (D) Glens Falls, Mohawk AND (C) Plattsburgh, Adirondack AND (C) Bronx Shore, Bronx-Westchester South - Each for Outstanding support of the Special Olympics Program
Public and Business Affairs
Coral

East Yonkers, Bronx Westchester South - Nurse Awards
Ithaca/Cayuga, Chemung - Police Officer Recognition Program

Emerald

Wantagh, LISC - "Men that Cook" Program
Citizenship Services
Coral

Mapleton, Brooklyn - Monthly meals at Ronald McDonald House for families in residence

Emerald

Copiague, Suffolk West - Field of Honor Flag presentation
Central Adirondacks/Old Forge, Central - Kiwanis One Day project - Main Street benches
Huntington, Suffolk West - Field of Honor Flag presentation
International Relations
Coral

Niagara Falls, Niagara Frontier North - Annual "US-Canada Goodwill Week" Meeting with Canadian Kiwanis Clubs. Informational Program on the War of 1812.
Support of Spiritual Aims
Coral

Hicksville, Long Island North - Three Kings Epiphany Celebration
Queens Boulevard, Queens West - Food Donation Program to Churches

Emerald

Greece, Genesee Cord rosaries sent monthly to US Troops overseas
Hoosick Falls, Van Rensselaer - Annual Prayer Breakfast

Diamond

Middletown, Hudson River West - Annual Clergy Day
Fundraising Signature Projects
Coral

Plattsburgh, Adirondack - "K" in the frozen Lake" Fundraiser: 350 pound "Golden K" placed in Lake Champlain, tickets sold on date and time it breaks through the ice!
Springville, Niagara Frontier South - 51st Annual "Pageant of the Bands" Program for local HS Bands - more a "friendraiser" than a "fundraiser"!

Emerald

Holland, Niagara Frontier South - Kiwanis Tulip Festival - Second Weekend in May!
Nunda, Genesee - Summer Chicken BBQ and Kiwanis Park projects

Ruby

La Guardia Airport, Queens West - LaGuardia Airport Kids Day

Diamond

Lewiston, Niagara Frontier North - Kiwanis Niagara County Peach Festival - First weekend after Labor Day!
Saugerties, Hudson River - Kiwanis Saugerties Garlic Festival - "Garlic Shooters" sold to an unsuspecting public for $1 each
Special Recognition
Hudson River West Division - Division wide Kiwanis One Day Walk for Hunger Program on April 13, 2013, to benefit the Food Bank of the Hudson Valley.
Genesee Division - Fundraising to dedicate a Room at Golisano/ Strong Hospital through the Children's Miracle Network Program for $100k.
Niagara Frontier North and South Divisions - Kamp Kiwanis at Cradle Beach Project, which sends 50 under privileged children to the Cradle Beach Camp on Lake Erie for a Week. This has been an Annual Project since 1975 (39th year coming up)
South Shore/SI, Staten Island, Richmond County, Brighton/SI, Chinatown, North Central/SI, as well as Brooklyn, Queens, and Long Island "South Shore" Kiwanis Clubs - Hurricane Sandy Relief Projects throughout the first few months of this Administrative year. Tremendous effort of time, energy and funds.
Total Achievement Awards
Coral - 29 or fewer Members

Golden K Rockaway Blvd. South Ozone Park, Queens East
Mapleton, Brooklyn
Marilla, Niagara Frontier South
Nassau University Medical Center, Long Island South Central

Emerald - 30 to 45 Members

Central Adirondacks Old Forge, Central
Chinatown, Metropolitan
Plattsburgh Noon, Adirondack
York Leicester, Genesee

Ruby - 46 to 75 Members

Chester, Hudson River West
East Aurora, Niagara Frontier South
La Guardia Airport, Queens West
Minisink Valley, Hudson River West

Diamond - 76 or more Members

East Meadow, Long Island South Central
Elmira, Chemung
Glens Falls, Mohawk
Lewiston, Niagara Frontier North